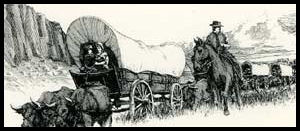 The Santa Fe Trail Bicycle Trek rolled out of Santa Fe, New Mexico, on September 13th, heading northeast along roughly the same route as the old Santa Fe Trail.
The riders rode through New Mexico and Colorado, and entered Kansas on September 20th. For the next week or so, they'll make their way through the Sunflower State, overnighting in Lakin, Dodge City, Larned, Sterling, Hillsboro, Council Grove, and Baldwin City before exiting the state on the 28th on their way to Independence, Missouri, and ultimately to New Franklin, Missouri where the trail begins (or, in the case of the cyclists, ends).
This is the 15th year for the Santa Fe Trail Bicycle Trek, which takes place one every two years and attracts riders from all over the world who want to relive a bit of the old west and learn about the history of the trail and its role in western expansion and the opening of "The Great American Desert" to European settlement.
Each rider pays $40 per day, which pays for breakfast and dinner, camp sites and showers, daily ride sheets and maps, and a truck to carry their gear. Each night they camp out, to keep expenses low, and take a day off every fifth or sixth day to rest and explore sites along the trail.
The Trek doesn't follow the Santa Fe Trail exactly, because the exact route is either lost or on private land, but follows it as closely as possible while keeping to paved public roads. The entirety of the route is approximately 1100 miles, with 17 days of riding and three rest days. They ride an average of 64 miles a day, with the longest day being 85 and the shortest 21.
If you're interested in doing this tour in 2011, you best sign up quick — they cap the number of riders at 50!
If you'd like to learn more about the Santa Fe Trail Bicycle Trek, visit the tour's web site. You can also read a ride report from Californian Dick Kniepkamp, who rode the Trek in 2005.