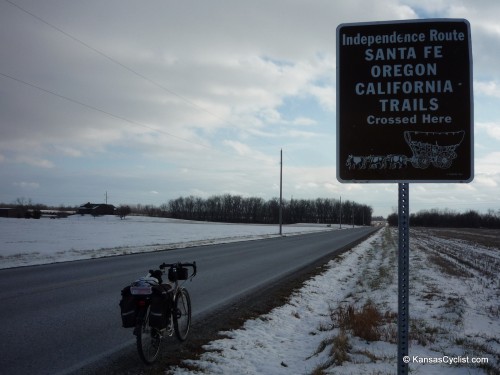 Kansas is criss-crossed with historic trails, and perhaps none is more storied than the Santa Fe Trail, which covered about 1,200 miles from New Franklin, Missouri to Santa Fe, New Mexico.
I'm fortunate enough to live just a mile or so off the actual route, and many of my everyday rides cross the trail numerous times.
In this photo, I've parked my Long Haul Trucker, laden with a small load of groceries, next to a sign commemorating the "Independence Route" of the Santa Fe Trail. In fact, at this point, the same route was used by Oregon Trail and California Trail traffic, as well.
I wonder, sometimes, how the land actually looked in those days, nearly 200 years ago. There were no real roads, of course, and the vegetation would have been random and uncultivated, but I expect that the lay of the land, the topography, would still be recognizable to those early pioneers.
Most of the actual route of the Santa Fe Trail has been lost or destroyed by development or agriculture, which is a shame. But I'm happy that small reminders of the route are still intact, and can be noted by those who take the time to pay attention…