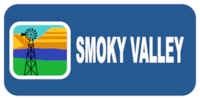 Settlers dubbed this region of steep, grassy hills and bluffs the Smoky Hills because of the haze that seems to settle on them at sunrise and sunset. The 60-mile Smoky Valley Scenic Byway loop in west-central Kansas crosses the Smoky Hill River Valley in a region where mixed-grass prairie begins giving way to the short-grass prairie which is able to endure the hot, arid summers of the western High Plains. The route takes you by two crossings of the frontier Butterfield Overland Dispatch freight and passenger wagon trail and Cedar Bluff Reservoir.
The route begins in WaKeeney and heads south on US-283, east for a few miles on K-4, then back north on K-147 to Ogallah.
Length of route: About 60 miles
Bicycle friendliness of route: Good. US-283 has a narrow paved shoulder, though K-4 and K-147 do not, but traffic on each road is generally light at well under 1000 vehicles per day.
Communities Along the Smoky Valley Scenic Byway
Learn more from Kansas Byways and Byways.org.
See also: Kansas Byways Bicycle Guide