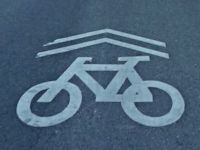 Sharrows have begun to appear on Kansas roadways in recent years.
Since these markings are relatively new to the state, many people are unfamiliar with them, and are not sure what they mean, and how they are to be used.
According to the Federal Highway Administration:
Shared lane markings (also referred to as sharrows) help convey to motorists and bicyclists that they must share the roads on which they are operating. The purpose of the markings is to create improved conditions for bicyclists by clarifying where they are expected to ride and to remind motorists to expect bicyclists on the road.
Use of sharrows can lead to fewer sidewalk riders, fewer wrong-way riders, greater distance from passing motor vehicles, and less danger from doorings – making bicycling on city streets safer and more convenient for bicyclists.
For motorists, sharrows make sharing the road with bicycles easier as well. With cyclists in the center of a lane, they're easier to see, and removes the ambiguity and confusion about whether or not there is room to pass within the lane. Motorists can easily discern that there is not enough room to share the lane, and so they can prepare to change lanes if they need to pass.
Sharrow Specifications
The Manual on Uniform Traffic Control Devices (MUTCD) provides the following guidance for using sharrows:
The Shared Lane Marking shown may be used to:

Assist bicyclists with lateral positioning in a shared lane with on-street parallel parking in order to reduce the chance of a bicyclist's impacting the open door of a parked vehicle,
Assist bicyclists with lateral positioning in lanes that are too narrow for a motor vehicle and a bicycle to travel side by side within the same traffic lane,
Alert road users of the lateral location bicyclists are likely to occupy within the traveled way,
Encourage safe passing of bicyclists by motorists, and
Reduce the incidence of wrong-way bicycling.

The Shared Lane Marking should not be placed on roadways that have a speed limit above 35 mph.
Shared Lane Markings shall not be used on shoulders or in designated bicycle lanes.
If used in a shared lane with on-street parallel parking, Shared Lane Markings should be placed so that the centers of the markings are at least 11 feet from the face of the curb, or from the edge of the pavement where there is no curb.
If used on a street without on-street parking that has an outside travel lane that is less than 14 feet wide, the centers of the Shared Lane Markings should be at least 4 feet from the face of the curb, or from the edge of the pavement where there is no curb.
If used, the Shared Lane Marking should be placed immediately after an intersection and spaced at intervals not greater than 250 feet thereafter.
Section 9B.06 describes a Bicycles May Use Full Lane sign that may be used in addition to or instead of the Shared Lane Marking to inform road users that bicyclists might occupy the travel lane.
Sharrows in Kansas
Sharrows have, so far, been installed in very few Kansas cities. The following are the implementations I'm currently aware of:
Sharrows in Emporia, Kansas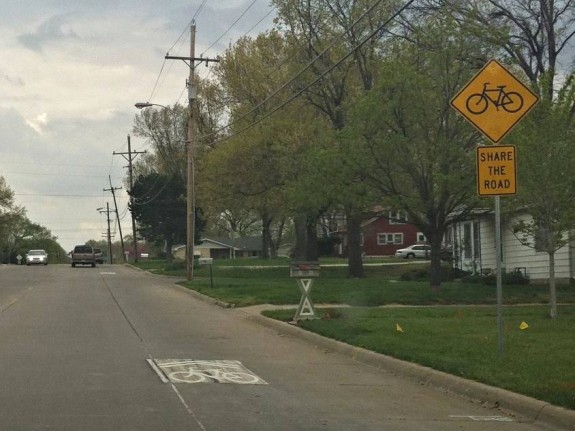 Emporia installed their first sharrows in 2013, on 2 miles of 12th Avenue, with plans to add additional sharrows on three other streets by 2017.
Learn more: Sharrows Come To Emporia
Sharrows in Iola, Kansas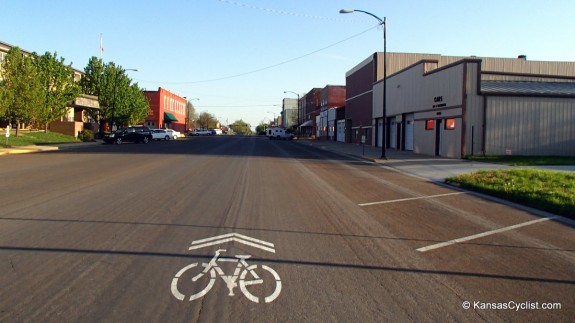 Iola installed a little over a mile of sharrows on city streets in April 2014, to help raise awareness, and to help connect the Prairie Spirit Trail and the Southwind Rail Trail to the amenities and services in downtown Iola.
Learn more: Sharrows Arrive in Iola
Sharrows in Lawrence, Kansas
A number of streets in Lawrence have been enhanced with sharrows, but at this time I have no photos...
Sharrows in Manhattan, Kansas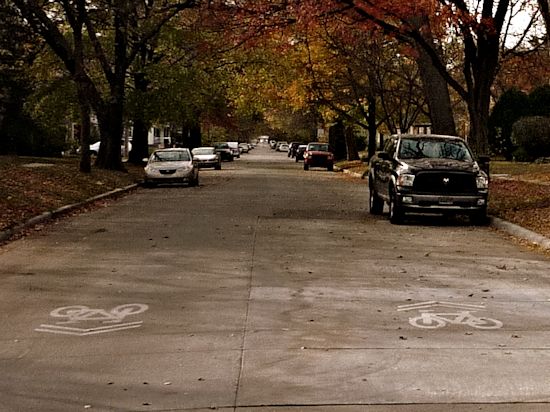 In 2012, the city of Manhattan created the "Moro Street Bicycle Boulevard", the state's first, which included sharrows in both directions, for approximately half a mile, connecting Aggieville with a shopping district to the east.
Also in Manhattan, Kansas State University installed sharrows throughout campus roadways in 2011, "part of an overall effort to improve bicycle markings on campus to create a healthier culture balancing pedestrian, bicycle, and vehicular needs". (Sorry, I don't have photos, or specific mileage or street details.)
Sharrows in Topeka, Kansas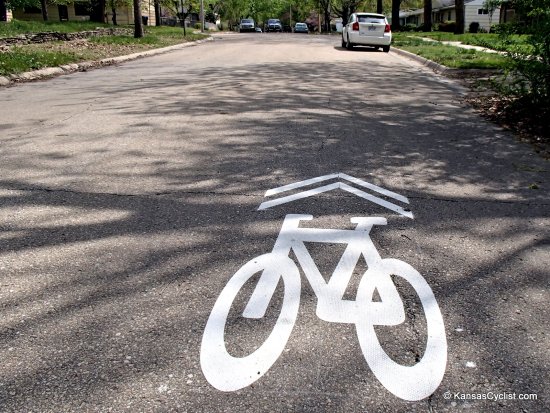 In 2011, the city of Topeka installed sharrows on about 0.5 miles of SW McClure Road (shown above). In 2013, the city installed a few sharrows on a short stretch of 10th Street near downtown, as a demonstration project.
The Topeka Bikeways Master Plan calls for numerous sharrows throughout the city.
Sharrows in Wichita, Kansas
Wichita installed their first sharrows in 2013, at the intersection of 21st and 135th, to help guide cyclists through a tricky intersection, and inform motorists about bicycle traffic. (Note that this is a very unusual implementation, with a sharrow within a turn lane; sharrows are more typically used within normal through lanes.)
Additional sharrows are planned throughout the city, as the Wichita Bicycle Master Plan is implemented.
Learn more: First Sharrows Installed In Wichita
How To Use Sharrows
Basically, just ride right down the center of the sharrow. If properly positioned within the lane, this is the best and safest lane position for the cyclist – away from any parked cars or edge-of-road debris, and far enough left in the lane to discourage unsafe passes within a narrow lane.
This is a pretty good illustration of how sharrows work, indicating to everyone the optimal lane position for cyclists in the roadway: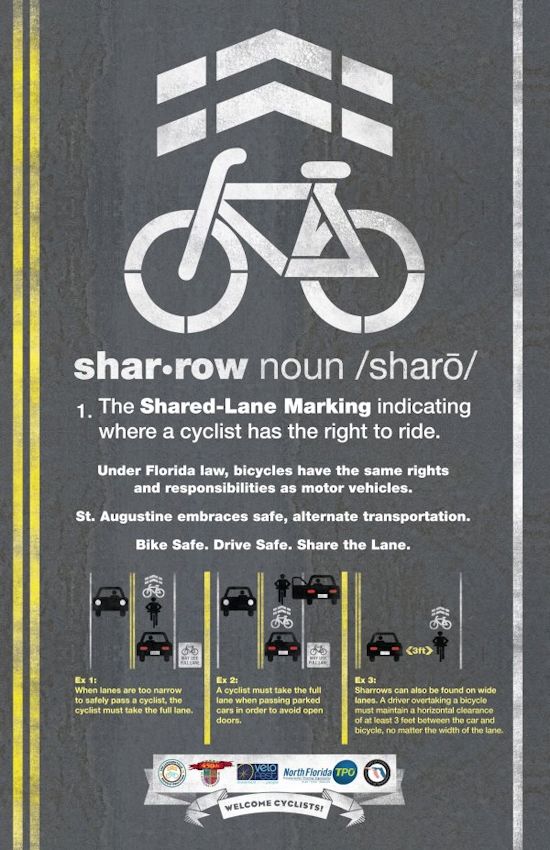 (This image is courtesy of Commute Orlando.)
The Iowa Bicycle Coalition put together this video that explains how to use sharrows:
How Not To Use Sharrows
Sharrows can make bicycle transportation safer, but they can't do it by themselves. Even properly-placed and conspicuous sharrows can't help if a bicyclist ignores them.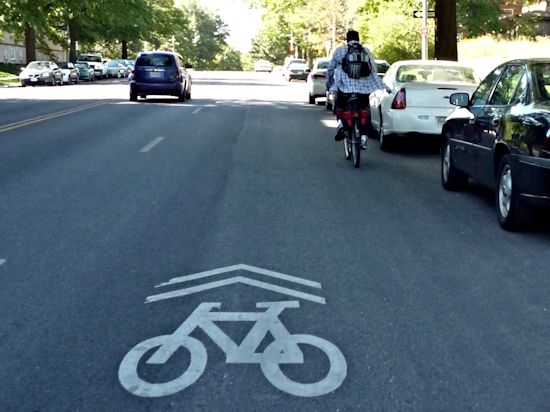 Here, a bicyclist (in Kansas City, Missouri) disdains the sharrow markings and puts himself in danger by riding too far to the right, where he's at risk from car doors opening in his path, as well as motorists squeezing him within the lane.
The cyclist in this example would be far safer if he were riding his bicycle directly over the sharrow markings. This would allow him to control the lane and eliminate the danger from parked cars, as well as make himself more visible to other roadway users.
Learn More