The city of Emporia has recently added sharrows and "Share The Road" signs to 12th Avenue, from Merchant Street to Industrial Road, a distance of about 2 miles.
These are the first sharrows on city streets in Emporia.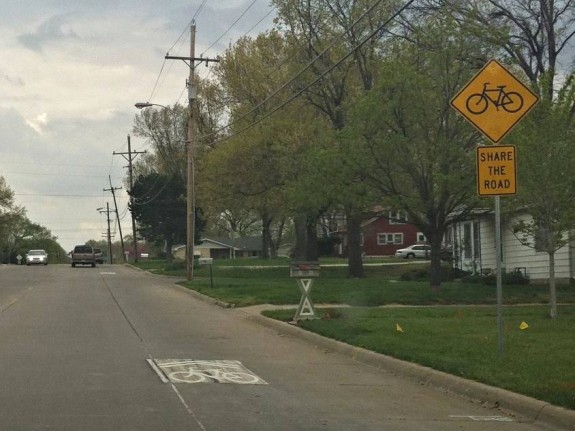 (Photo courtesy MUPP Board, used with permission.)
Emporia's Multi-Use Path Planning (MUPP) Board, which is working to improve the walk- and bikeability of Emporia, reported the following:
We're very excited to have them, and the community response has been great so far. They've been placed on 12th Ave., from Industrial Rd. to Merchant St. (approx. 2 miles). This is the first phase of the project; as funds allow, they will also be placed on Prairie St., Merchant St., and South Ave.
Given the current funding forecast, they're aiming for all 4 streets to be completed sometime in 2017. If addition funding is secured sooner, the projects can be accelerated.
At that point, there will be a total of about 6.75 miles of sharrows in Emporia — 1.25 miles on Merchant, 1.5 on South, and 2 on Prairie, in addition to the 2 already in place on 12th Avenue.
Emporia is the 4th Kansas community to add sharrows on their streets (the previous ones were Topeka and Manhattan in 2011, and Wichita very recently.
What is a Sharrow?
A sharrow (short for "shared lane arrow") serves two main purposes: First, they advise bicyclists where to position themselves within a lane for optimal safety — basically, bicyclists should ride right over the "point" of the arrow. Secondly, they remind motorists to expect bicycle traffic, and where drivers should expect bicyclists to position themselves. Secondary purposes of the sharrows are to remind bicyclists to ride in the same direction as other traffic, and can also be used as a wayfinding aid.
Although sharrows are relatively new in Kansas, they've been used around the country for many years, and can help improve the safety of the roads for both motorists and bicyclists.
This article explains in more detail: Sharrows in Kansas.
Post tags: Bike Lanes, Emporia