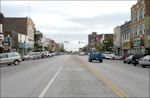 Downtown Emporia, Kansas is getting some new bike racks, which are being provided to beautify the downtown area and encourage alternative transportation. (Presumably, these racks are the result of last year's Emporia Bike Rack Design Competition).
This is great news! KTKA in Topeka has the story:
Taxpayers in Emporia will be happy about a free perk coming to the downtown area. Twelve bike racks are in the plans for Commercial Street between 4th and 12th Street.

Emporia Mainstreet will pay for them and welding students at Flint Hills Technical College will build the racks. The Emporia Trails Board is donating 400 dollars to the project to improve the health of the community and environment.

It's also a safety feature. Rachael LeClear of Flint Hills Technical College says, "It's not very safe because of the way the cars are parked at an angle and back out into traffic, it's not safe for bikes to ride on the street there, so a lot of them do end up riding on the sidewalk. I think that if we had places for them to park, they can come up the side streets and park, and then walk to where they need to go. So I think it will be very helpful."

Each rack will include a Kiosk on the side, to show a map of downtown Emporia and a schedule of upcoming events for the town. The racks will have a special powder coating to make them virtually maintenance-free.
Read more and watch the video: 12 new bike racks coming to downtown Emporia
But one phrase from that piece kind of jumps out: "It's not safe for bikes to ride on the street."
The concern about angled-in parking is well-justified, but bicyclists are safer riding in the street than on the sidewalk (Bicycling on the street is >20 times safer than riding on the sidewalk), and the street is the proper place for bicyclists to be. And beyond that, if it's safe for a car to drive down a street with angled parking, why wouldn't it be safe to ride a bicycle down that same street?
Instead, perhaps we should provide bicyclists with some tips about the best way to ride on a street with angle parking:
Ride in the center of the lane, where you're most visible. Speeds in downtown areas with angled parking are typically low; you're not impeding traffic. Don't ride near the parked cars.
Watch for brake lights from parked cars, indicating that they may suddenly pull out.
Watch carefully for any movement of parked cars. Often, as a person sits down in a car, starts it, or shifts it into gear, the car will visibly jolt.
Watch for heads in parked cars. If you can see a head, there's a person inside, and they may move the car suddenly!
If the weather is cool, watch for car exhaust, which is often most visible immediately after an engine is started. The driver may simply be keeping the car warm while they wait for someone in a shop, or they mat be planning to back out.
If a car is stopped in the street, and you're coming up behind, don't pass them on their right. They may be waiting for a parked car to exit, or they may be planning to pull into a parking space themselves. Wait patiently for the street to clear before proceeding.
Watch out for cars that may pass you and then right-hook you as they attempt to enter a parking space. Again, this is another reason to ride in the center of the lane, not on the right.
Be prepared to stop!
If you're slowing or stopping, be sure to use the appropriate hand signal (extend your left upper arm out to the left, parallel to the road and angle your forearm vertically downward) to indicate your intentions to any following traffic.
Or, how about considering converting the street from angled-in parking to back-in parking? Back-in angle parking: what is it, and when and where is it most effective?
By adding the bike racks, Emporia is encouraging its citizens to ride their bikes more, and that's a wonderful thing. But let's not discourage bicyclists from riding in the street!
By the way, the winning bike rack design has not yet been chosen. You can vote here.
Post tags: Emporia