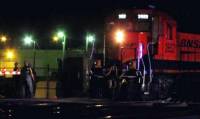 A man in Emporia, Kansas died when he fell off his bicycle onto train tracks, lost consciousness, and was struck by a train on October 9th.
According to the Emporia Gazette:
The Emporia Police Department, EMS and fire were dispatched to the area of the railroad tracks and Market Street at 9:38 p.m. for an accident involving a train and a bicyclist. The bicyclist was Michael T. Glaser, 46, who lives in the south central part of Emporia. According to the Emporia Police Department's investigation it appeared that Glaser was riding his bike south on Market Street and fell off his bike. Glaser ended up falling just west of Market Street off the roadway onto the south railroad tracks and was unconscious. The train tried to stop but was unable to stop in time. Glaser was trapped underneath the BNSF train. Both Emporia Fire and EMS worked on removing Glaser from underneath the train. Glaser was removed and transported to Newman's Hospital where he was pronounced dead.
It is not known why Mr. Glaser fell.
See addition coverage from:
Michael Glaser is the fifth bicyclist killed on Kansas roads in 2013. Hayley Berrios was killed in Lawrence on July 21st, Ralph Lowe died on July 10th in Topeka, Jeremiah Conlin died in Kansas City on July 9th, and Gail Kline was killed near Salina on May 31st.
Image courtesy KAKE.com.
Post tags: Emporia