A bicyclist was struck by a car and killed in Lawrence yesterday evening, July 21st, at about 8pm.
According to LJWorld:
One person is dead after an accident on the South Lawrence Trafficway in which a car struck a person on Sunday evening.

The accident happened after 8 p.m. near the stoplight on the trafficway at 27th Street. A helicopter ambulance had been called to the accident but the person was declared dead about 8:30 p.m. and the helicopter flight canceled.

The Kansas Highway Patrol is investigating the accident.
Kansas Highway Patrol accident report says: "The bicyclist was crossing K10 bypass headed eastbound. Vehicle one was headed Northwest when the vehicle struck the pedestrian."
The KHP report lists the bicyclist as Hayley M. Berrios, age 29, of Lawrence, and the driver as Spencer Walter, age 67, also of Lawrence.
Heartbreakingly, the KHP report also says that "Next of Kin was onscene at the time of the accident".
Here is the intersection of 27th Street and K-10 (South Lawrence Trafficway), courtesy of Google Streetview, from the driver's point of view: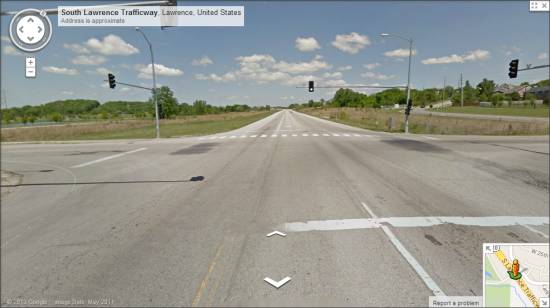 The reports do not say whether the bicyclist was struck while riding in the street, or in the crosswalk. A multi-use pathway crosses K-10 at that intersection. Here's the view looking northeast: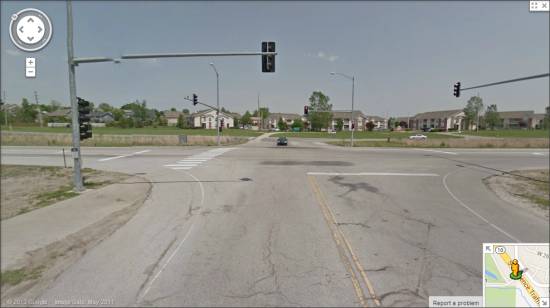 No other information about this collision is available at this time…
Hayley Berrios is the fourth bicyclist killed on Kansas roads in 2013. Ralph Lowe died on July 10th in Topeka, Jeremiah Conlin died in Kansas City on July 9th, and Gail Kline was killed near Salina on May 31st.
Post tags: Lawrence