A bicyclist who was struck by a motorcycle in Topeka on July 7th has died.
According to the Topeka Capital-Journal:
Ralph Lowe, 61, of Topeka, was pronounced dead July 10 as a result of injuries he sustained on July 7, when his bicycle was struck by a motorcycle in the 2100 block of N.W. Tyler Street, said Kristen Veverka, public information officer for the Topeka Police Department.

The accident occurred shortly before 10 p.m. July 7. Lowe was transported from the scene with injuries thought to be life-threatening, while the motorcyclist, also a man, took a personal vehicle to a local hospital for treatment for minor injuries.

Veverka didn't provide details into the accident.

Dawn Brumbaugh, an area resident who witnessed the accident, said she saw the bicyclist pull out onto Tyler Street directly in front of the motorcycle.
The initial report of the collision said that "the bicyclist was unresponsive with labored breathing and had severe injuries to his head and limbs." The witness "also lamented the lack of lighting down the street and called for a traffic light to be installed at Tyler and Lyman".
This is an approximate view of the collision location (see Streetview):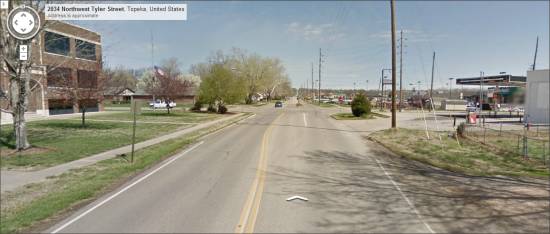 The intersection of Tyler and Lyman Streets is a 4-way stop, and vehicular speeds should have been very moderate near the intersection, so it's unclear how Mr. Lowe sustained such severe injuries. The speed limit on Tyler is 35 MPH. The newspaper accounts do not state whether Mr. Lowe was wearing a helmet, nor whether his bicycle had the required headlight and rear reflector to operate at night.
The police investigation is apparently continuing…
(Image courtesy of MugshotsOnline.)
Ralph Lowe is the third bicyclist killed on Kansas roads in 2013. Jeremiah Conlin died in Kansas City on July 9th, and Gail Kline was killed near Salina on May 31st.
Post tags: Topeka