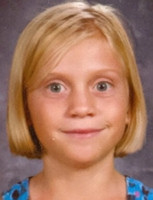 9-year-old Johnna Feugate has died after she and her twin sister, who were riding together on a bicycle, failed to stop at a stop sign, and were struck by a sports utility vehicle in Paola, Kansas.
The collision occurred on September 21st, and both girls were taken by air ambulance to Children's Mercy Hospital in Kansas City, in critical condition. Johnna died a week later, on September 28, 2012. Her sister, Christina, is expected to fully recover.
The Miami County Republic reports that:
According to a Paola Police Department report, which was released Tuesday morning, 9-year-old twin sisters were riding the same bicycle south on Maple Street at 4:04 p.m. Sept. 21 when they did not stop at a stop sign and entered the Osage Street intersection, where they were struck by a 2003 GMC Envoy driven by Autumn Bassett, 33, of Paola, who was traveling east on Osage Street. Both sisters were taken by air ambulance to Children's Mercy Hospital with critical injuries.
According to KCTV5:
Johnna and Christina were riding their bike the afternoon of Sept. 21 when they apparently didn't stop for a stop sign and crashed into an SUV. Both were rushed via medical helicopter to Children's Mercy in Kansas City.

Christina suffered debilitating injuries, but is on the road to recovery.

Funeral home director Chad Wilson said it was heartbreaking to see a sobbing Christina this week come to the funeral home in a wheelchair and full body cast to look at a mirror image of herself in the casket.
Fox4KC says:
Christina can't run around like she used to. Right now, the 10-year-old is still in several casts after she and Johnna were hit by a driver on Sept. 21. Both spent time in the hospital, but Johnna's injuries were too severe. She passed away on Friday.

On that fateful day, Christina was giving Johnna a ride on a bike. They were making their way to the park. A police report said the girls did not stop at an intersection and were hit by an oncoming car.
After the collision, the driver of the car stopped, and cooperated with the police. The investigation by Paola Police continues, though the collision has focused attention on the street where the girls were struck. Osage Street residents want change:
A group of residents attended the Sept. 25 Paola City Council meeting to express concerns they have about the speed of vehicles traveling on their street, which has a speed limit of 30 mph and splits between Wallace Park to the south and homes to the north.

Mark Ridihalgh spoke on behalf of the residents during the meeting. Mark said he has lived on the street for 17 years, and the speed and amount of traffic on the road has grown over the past five or six years.

"We need to slow the speed down," Mark said. "We would like to see some stop signs on that street."

Mark specifically requested a reduction in speed from 30 mph to 20 mph and to install stop signs around the entrance to Wallace Park. He also mentioned the lack of sidewalks along Osage Street, especially leading to Wallace Park, as an issue.

Police Chief Dave Smail said the 30 mph speed limit is a state standard for a residential street in Kansas.
Osage Street in Paola is part of a planned citywide trail system, that would link Wallace Park, Lake Miola, as well as other parks, schools, and businesses within the community. The system is to be known as "Paola Pathways", and would consist of paved multi-use paths, limestone multi-use paths, and on-street bike lanes.
Johnna is survived by her parents, Henry and Sonya Feugate of Paola, and three sisters, Brittany, Dawn and Christina. Johnna's funeral was October 5th, with burial in Osawatomie Cemetery. Condolences may be left for the family at penwellgabelpaola.com. Memorials may be made to the Johnna Feugate Memorial Fund, and an account called "Hope for the Twins" has been set up at First Option Bank in Paola.
See also:
Johnna is the seventh cyclist to die on Kansas roads in 2012. Julian Olea Tomas was killed by a garbage truck in Hutchinson on February 13th, John B. Fuqua was killed in a hit-and-run in Wichita on May 20th, Caleb Garcia was killed by a truck in Liberal on June 1st, Roger Haynie died when two bicycles collided in Garden Plain on June 8th, Dr. Roger Joyce was struck from behind by a car near Augusta on July 25th, and Paul Ziegler was killed by an inattentive driver on September 23rd near McPherson.