Sad news from Butler County, Kansas, where 49-year-old Dr. Roger Joyce of El Dorado was killed by a motorist as he rode his bicycle on Thursday, July 25, 2012 near Augusta, Kansas.
According to the Topeka Capital-Journal:
An El Dorado man was killed Thursday afternoon near Augusta in Butler County when the bike he was riding was hit from behind by a car, an official with the Kansas Highway Patrol said.

Roger N. Joyce, 49, was southbound on United States highway 54/77 just south of S.W. 80th riding in the right lane of traffic when he was hit by a 1990 Buick LeSabre and thrown from his bike. The LeSabre was southbound on the US-54/77 in the right lane of traffic.

The car was driven by John D. Reeves, 36, of Rose Hill, and was occupied by 3-year-old Hannah E. Reeves. Neither were injured.

Joyce, who was wearing a helmet, was taken to Sedgwick County Forensic Science Center.
The Kansas Highway Patrol crash log says:
Vehicle 1 was Southbound on U54/U77 s of SW 80th V1 in the right outside lane of traffic, Bicycle was Southbound on U54/U77 Riding in the right lane of traffic. Vehicle 1 struck the rear of the bicycle. Bicycle rider was thrown from the bicycle.
The car was towed from the scene; Mr. Joyce was taken to a mortuary.
According to KSN, "The KHP continues to investigate the accident."
Here's a Google StreetView of the approximate area where the collision occurred: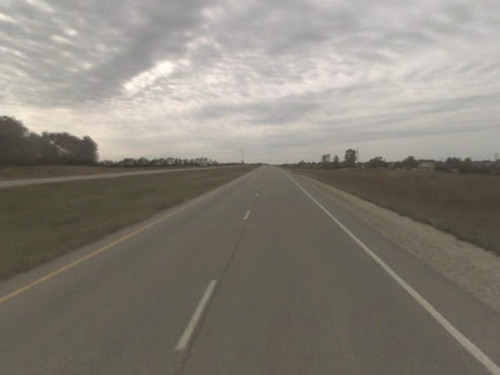 The collision occurred at approximately 2:25 pm. US-54/77 is a four-lane divided highway with a very narrow shoulder. The roadway appears to be flat and straight, the lanes smooth and wide, with a 65 MPH speed limit.
Roger N. Joyce was a partner at Drs. Joyce & Joyce LLC, an Optometry eye care clinic in El Dorado. According to his bio: "Dr. Joyce attended Butler Community College and Emporia State University before receiving his Doctor of Optometry degree in 1988 from the University of Houston. Dr. Joyce served as Secretary/Treasurer for the Kansas Optometric Association, and as a director of the See to Learn Foundation. He and his wife Luci have two children. They have numerous animals and he enjoys playing tennis and bicycle riding."
Roger Joyce is the fifth bicyclist to be killed on Kansas roads in 2012 to date. Roger Haynie died when two bicycles collided in Garden Plain on June 8th, Julian Olea Tomas was killed by a garbage truck in Hutchinson on February 13th, John B. Fuqua was killed in a hit-and-run in Wichita on May 20th, and Caleb Garcia was killed by a truck in Liberal on June 1st.
Post tags: El Dorado, Inattentive Driving, NewsBlog