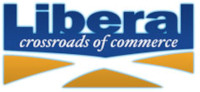 Caleb Garcia, a 9-year-old boy from Liberal, Kansas, was killed Friday evening when he was ran over by a semi-tractor trailer on U.S. Highway 54.
According to the Kansas Highway Patrol crash log, Caleb Garcia, of Liberal, was riding a bicycle southbound on New York Avenue, failed to yield to highway traffic, and was ran over by a westbound semi-tractor trailer driven by 40-year-old Elizabeth Sturdivant of Aurora, Missouri. The collision occurred at 5:58 pm on June 1, 2012.
Here's a view of the intersection via Google Maps Streetview, (Pancake Blvd is the local name for US-54 Highway):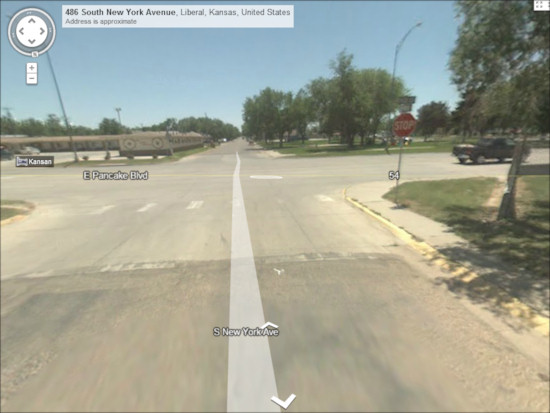 At the intersection, US-54 is a four-lane highway with a center turn lane, and a 30 MPH speed limit. The Highway Patrol report does not indicate whether or not Caleb stopped at the stop sign before attempting to cross the highway.
There are no marked pedestrian crosswalks across US-54 at New York.
There is a pedestrian overcross a half-block away, but it cannot be navigated by bicycle, with a series of steep stairs on both ends of the structure: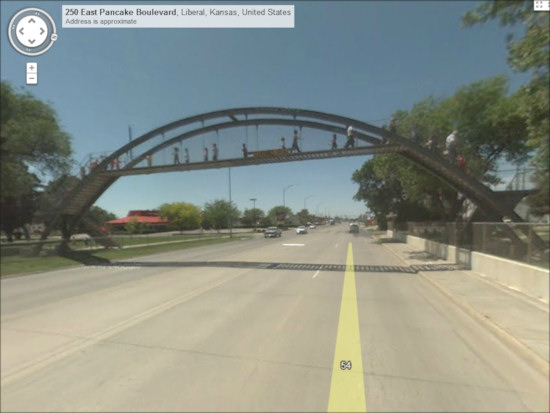 Here is some information about Caleb Garcia, from KGYN Radio News:
He was born March 3, 2003, at Liberal, KS, the son of Juan L. and Concepión (Velasquez) Garcia. Caleb had completed 3rd grade at McDermott Elementary School in Liberal. He was a member of the First United Methodist Church and was in the church "Kid's Club." He is survived by his parents of Liberal, KS; 3 Brothers – Edgar Garcia of Liberal, KS; Francisco Garcia of Roxboro, NC, and Angel Garcia of Liberal, KS.

Receiving of Caleb's Cremains will be 11:00 am Tuesday, June 5, 2012, at the First United Methodist Church in Liberal, KS. A Memorial service will be at 5:00 pm Tuesday at the First United Methodist Church. Friends may sign the guest register and visit the family from 11 am – service time at the church. There will be no interment services at this time. Memorial donations are suggested to Juan Garcia Hispanic Ministries to assist with Caleb's funeral expenses in care of Brenneman Funeral Home 1212 W. 2nd Liberal, KS 67901.
Caleb is the third Kansas bicyclist to be killed in a collision in 2012. Julian Olea Tomas was killed by a garbage truck in Hutchinson on February 13th, and John B. Fuqua was killed in a hit-and-run in Wichita on May 20th.