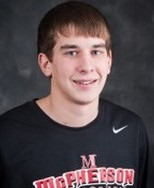 Paul Ziegler, a student at McPherson College in McPherson, Kansas, was killed by an inattentive driver on Sunday, September 23, 2012 near McPherson.
According to the McPherson Sentinel:
Paul Ziegler, 19, Elizabethtown, Pa., was southbound on his bicycle .2 of a mile north of Frontier Road on 18th Avenue at around 12:45 p.m. Sunday when the accident occurred. Capt. Joe Hoffman said a 17-year-old rural McPherson male was northbound on 18th Avenue and swerved into Ziegler's path as he was reaching for something he dropped.

Ziegler was a freshman majoring in Business who was loved by many on campus, McPherson College President Michael Schneider said. "He was a long way from home, but loved the community," Schneider said. "And he got love and respect back."
Paul's hometown newspaper, MyElizabethtown News, reported:
Paul Allen Ziegler, 19, was a student at McPherson College and lived in a dormitory on the campus, according to Capt. Joe Hoffman of the McPherson County Sheriff's Office. He was the son of Dale and Debra Ziegler, of 9103 Elizabethtown Road.

"He was just out riding his bike, about four miles out of town," Hoffman said. "He was by himself."

Ziegler was riding southbound on 18th Ave. at 12:45 p.m. when a northbound pickup truck drifted over the center line and struck him head-on, killing him on impact, the captain said.

The pickup truck was driven by 17-year-old Ethan Fowler, of 961 18th Ave., McPherson, Kan.

"He said he dropped his pocket knife and looked over to the passenger seat to see where he dropped it," Hoffman said. "He looked back up and was left of (the center line) and hit him."

"Inattention and an inexperienced driver contributed to the accident," he said. "It is sad to see a young man lose his life over something like this."

Ziegler was pronounced dead at the scene by EMS personnel.

His body was taken to Sedgwick County Regional Forensic Science Center in Wichita, where an autopsy is planned, Hoffman said.

It did not appear that there were any evasive maneuvers taken by Fowler or Ziegler, he said.

Fowler was "uncontrollable with anxiety" after the wreck, Hoffman said.

Hoffman said it appears Fowler was driving under the road's 55 mph speed limit at the time of the wreck.

"There's no evidence of alcohol impairment, and he was not texting," Hoffman said.

Police will be working with a Kansas prosecutor to determine if any charges will be filed.
A memorial service for Paul Ziegler is planned in McPherson, though details are not yet available. KAKE reports that "Those wishing to show support can drop off cards at designated locations around campus including Miller Library and Mohler Hall."
The investigation of the collision will be conducted by the McPherson County Sheriff's Office and the McPherson County Attorney.
Additional coverage:
Paul is the sixth cyclist to lose their life on Kansas roads in 2012. Julian Olea Tomas was killed by a garbage truck in Hutchinson on February 13th, John B. Fuqua was killed in a hit-and-run in Wichita on May 20th, Caleb Garcia was killed by a truck in Liberal on June 1st, Roger Haynie died when two bicycles collided in Garden Plain on June 8th, and Dr. Roger Joyce was struck from behind by a car near Augusta on July 25th.
Our thoughts and prayers go out to Paul's family and friends, and to the people of McPherson and McPherson College. Tailwinds, Paul.
Post tags: Inattentive Driving, McPherson, NewsBlog