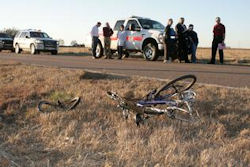 This news is a bit old, but important.
On November 4th, 71-year-old James Jerome Searle was riding his bicycle east on Old Highway 50 just west of Stafford, Kansas when he was struck from behind by an SUV driven by Lawrence L. Curtis, 81, of Stafford.
Searle died at the scene. Curtis initially left the scene of the collision, but returned approximately 10 minutes after the call came in to Stafford County dispatchers.
A subsequent story from The Hutchinson News gives us a little background:
Jim Searle was a man on a mission Wednesday afternoon. Enjoying the mild fall weather, he rode his bicycle west of town, stopping at a friend's cornfield to pick ears to feed the squirrels in his back yard. Heading back into town, the 71-year-old Searle was struck from behind by a motorist and died at the scene of the accident.

He was so focused on being there for his grandkids, said his son, Jeff Searle, he was taking good care of his health, losing weight and becoming an avid cyclist. His mission was to extend his life in a family that didn't have a history of longevity.

"I don't believe in premonitions," said Jeff Searle. "But he told me six months ago since he was 60 he felt he was living on borrowed time. Everyday was a bonus."

And that's just how he lived his life. Greetings came with hugs, people were cherished.

Back in the early 1960s, while working for Halliburton Services in Great Bend, Searle was injured in an accident and had part of a leg amputated just below the knee.

Read more: Man sought to live longer for grandkids
Kansas Highway Patrol Lieutenant Stephen Billinger said it would be up to Stafford County Attorney Joe Shepack whether Curtis would be charged with anything as a result of the accident.
See also: Car, bicycle accident claims life of Stafford resident from the St. John News. Photo courtesy of Terry Spradley of the St. John News.