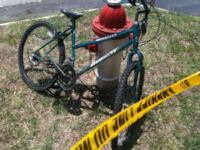 An 8-year-old girl was killed by a semi this morning in Halstead, Kansas, a small town of about 2000 people northwest of Wichita.
According to the Kansas Highway Patrol, Makiya M. Ritthale rode her bike into a crosswalk as a semi truck and trailer was making a right-hand turn. She hit the trailer and went under the back tires.
She was taken to Newton Medical Center, where she was pronounced dead.
The driver of the truck was James A. Dick, 66, of Mount Hope, KS.
Not other details are available at this time; the Kansas Highway Patrol, Halstead Police Department, and the Harvey County Sheriff's Office are investigating.
Links to additional coverage:
Photo courtesy of KWCH.