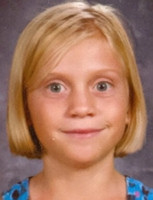 The driver who killed Johnna Feugate in Paola has been charged with traffic infractions in the collision that led to her death.
9-year-old Johnna Feugate died after she and her twin sister, who were riding together on a bicycle, failed to stop at a stop sign, and were struck by a sports utility vehicle in Paola, Kansas. The collision occurred on September 21st, and both girls were taken by air ambulance to Children's Mercy Hospital in Kansas City, in critical condition. Johnna died a week later, on September 28, 2012. Her sister, Christina, is expected to fully recover. [Paola Child Dies After Car-Bike Collision]
From the Miami County Republic:
Autumn Bassett, 33, of Paola is charged with speeding, inattentive driving and operating a motor vehicle without insurance, according to a news release from the Paola Police Department.

Bassett was issued the citations on Oct. 31, and her first appearance will be Dec. 13, according to the release.

Deputy Chief Don Poore said the charges are a result of a lengthy investigation, which included help from the Shawnee Police Department's traffic unit. None of the charges are felonies.

Poore also said the information from the investigation was given to the Miami County Attorney's Office, but no charges have been filed in Miami County District Court.
Read more: Charges filed against driver in fatal accident
Post tags: Inattentive Driving, NewsBlog, Paola