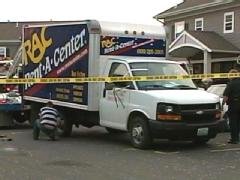 A 4-year-old boy riding a bicycle with training wheels was hit and killed by a delivery truck May 8th in Blue Springs, Missouri.
Mason P. McBride died when the truck hit him and ran him over in the parking lot of the apartment complex where he lived. The truck was a delivery vehicle for Rent-A-Center, and was driven by a 21-year-old from Lee's Summit, who said he did not see the small child on his bike.
The driver remained at the scene and was taken to police headquarters for questioning, though police characterized the child's death as a "tragic accident," and the driver will not face charges.
"To our knowledge the driver was not impaired during our investigation. I think it was just a mistake. The little boy just crossing the street and the truck being bigger and the driver maybe not paying one hundred percent attention like we all do sometimes, and didn't see the little boy until it was too late," Officer Jeremy Dickstein with the Blue Springs Police Department said.
Police said the driver was "devastated" by what had happened.
The boy's family planned a vigil for Mason at their apartment complex Friday night.
Read more: Kansas City Star, MyFox Kansas City, KCTV-5, KMBC-TV9.
Photo courtesy KCTV-5.