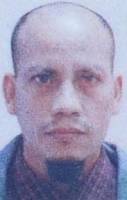 A bicyclist was struck and killed by a hit-and-run driver on November 29th in Kansas City, Kansas. The bicyclist was identified as Santiago Zamora-Zamora, age 40, of KCK.
According to the Wyandotte Daily News:
Police said they were called about a dead body at the location at 4 p.m. Tuesday Dec. 3.

A preliminary investigation indicates that between 6 and 8 a.m. Friday, Nov. 29, an unknown vehicle struck the victim, who had a red bicycle. The location of the incident was on southbound 18th Street Expressway, just north of the Kansas Avenue off-ramp, according to police.
The details of the collision are apparently very unclear. The Kansas City Star says that Zamora-Zamora "was either pushing or riding a red bicycle when he was struck". KMBC reports that "Zamora-Zamora was on 18th Street Expressway south on a red bicycle when he was struck".
18th Street Expressway is a rather horrible road to ride a bike on (or along), with narrow shoulders and a 55 MPH speed limit (25 MPH on the exit ramp), but it is one of the few ways to cross I-70, the Kansas River, and the tangle of railroad tracks in that part of KCK: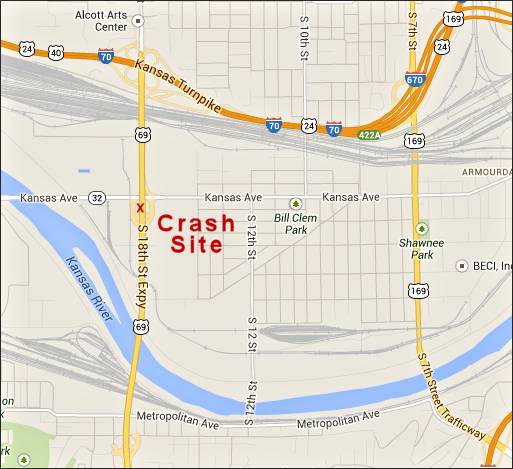 Here's a streetview of southbound 18th Street Expressway, just north of the Kansas Avenue off-ramp: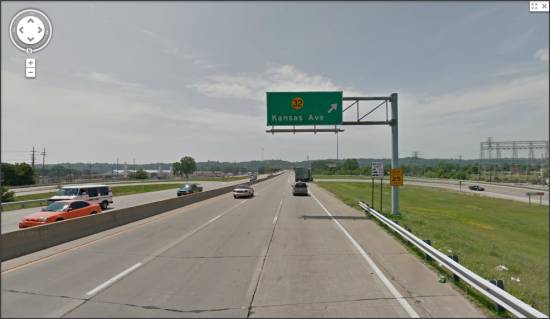 Looking at that streetview, how can a person (and a bike) lie along the side of that road and remain undetected for four days?!
The Traffic Support Unit-Critical Collision Response Team of the Kansas City, Kansas Police Department is continuing the investigation.
Police are asking for the public's help in identifying the killer who was driving the car that struck Zamora-Zamora. Anyone with information about the case is asked to call the TIPS hotline at 816-474-TIPS.
Santiago Zamora-Zamora is the seventh bicyclist killed on Kansas roads in 2013. Ronald Kennedy died on October 24th in Emporia, Michael Glaser was killed by a train in Emporia on October 9th, Hayley Berrios was killed in Lawrence on July 21st, Ralph Lowe died on July 10th in Topeka, Jeremiah Conlin died in Kansas City on July 9th, and Gail Kline was killed near Salina on May 31st.