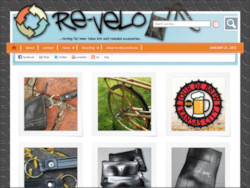 Re-Velo is a small business in Kansas City that turns flat inner tubes into well-rounded accessories. Re-Velo was born out of owner Nancy McDonald's love for bicycling, sewing, re-cycling, and her never-ending desire to stash her stuff into something stylish.
Re-Velo makes bags out of punctured or defective inner tubes saved from the trash by local bike shops. She also uses worn-out chain links for the zipper pulls and any other parts that can be salvaged. The bags are water-resistant, and being handmade, each one is unique!
Re-Velo offers Coin Purses, Wallets, Purses, Belts, Bags, and other accessories in a variety of styles. Check out the selection on their web site, or locally at Family Bicycles.