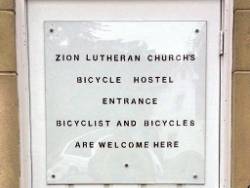 The Zion Lutheran Church in Hutchinson, Kansas, in cooperation with Harley's Bicycle Shop, hosts a hostel for bicycle travelers passing through the region.
The Bike Hostel is located in the basement of Zion Lutheran, and is open year-round. Bicyclists are welcome to bring their bicycles and all belonging right in to the church. Keys may be picked up at Harley's Bicycle Shop (7th and Main Street) during regular business hours. If Harley's is closed, bicyclists may call the church office at (620) 663-3513. They will reach a recording with phone numbers to call to get a key. Keys are accessible through several members of the church.
Image courtesy of Trenton and Rasham Gibbons of Free Life By Bike, who stayed here in July 2013.
Zion Lutheran Church Bicycle Hostel
1017 North Washington
Hutchinson , KS 67501