Biking Across Kansas, the annual bicycle tour across the state of Kansas, has announced it's route for 2008: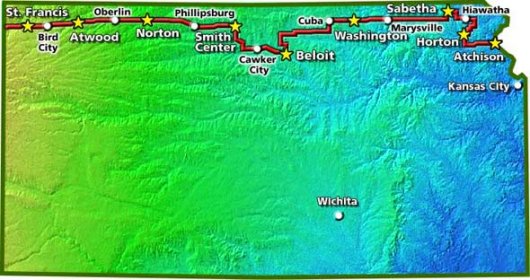 The 466-mile route crosses the northern tier of the state, starting in St. Francis and ending in Atchison,with overnight stops in Atwood, Norton, Smith Center, Beloit, Washington, Sabetha, and Horton.
Though the exact details of the route have not yet been released, it appears to follow US Route 36 across most of the state. Although 36 is a major US highway (running from Uhrichsville, Ohio in the east to Rocky Mountain National Park, Colorado in the west), in Kansas the road is primarily a two-lane rural road with moderate levels of traffic and paved shoulders. It has been designated as a cross-state bicycle route by the Kansas Department of Transportation.
This year's Biking Across Kansas tour runs from June 7th through June 14th. The cost is quite modest, only $145-165 per rider (less for Juniors and Seniors). The price includes transportation of your luggage, lodging at overnight stops (typically in school gymnasiums or in tents on school grounds), a commemorative t-shirt, and rest stops, support vehicles, and mechanical support along each day's route. You're responsible for your own transportation to the starting point and from the ending point, although chartered bus service is available from Kansas City and Wichita (at extra cost).
Online and mail-in registration is open now, and runs through the start date (late fees apply after May 7th). Registration is limited to 800 riders.
View our Biking Across Kansas page for additional information and links to ride reports from previous years.
Hope to see you there!
Post tags: Biking Across Kansas