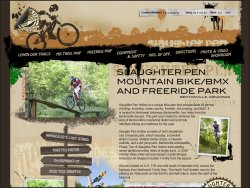 Bentonville, Arkansas is home to a unique mountain bike park called Slaughter Pen Hollow. The park offers over 5 miles of off-road cycling, on 180 acres of rugged terrain donated by the Walton family (of Wal-Mart fame). The trail system offers rocky terrain, natural raised bridges called "Log Rides", and a free-ride park with a downhill slalom course, multiple ladder drops, ramps and dirt jumps. There are trails easy enough for beginners, and others that prove challenging even for expert riders.
The park has been open less than a year, but has proven so popular that it's already expanding. According to NWANews.com, plans are in place "to more than double the trail mileage within Slaughter Pen, with the idea of eventually hooking up to the trail system carved out within the 100-acre wooded campus of Crystal Bridges Museum of American Art."
The new trails will be on land owned by the city, and will remain tucked away from view through heavily wooded areas. Funding for construction of the trail will be provided by the Walton Family Foundation, and the local Bentonville-Bella Vista Trailblazers group is managing the construction of the trails. They expect the new trails to be unveiled later this year.
Although Bentonville has the advantage of an abundance of land that is too rugged for other uses, they also have a core group of dedicated volunteers, a generous corporate sponsor, and a city government open to new ideas. (Of course, it also doesn't hurt that the main corporate proponent of the park, Tom Walton (grandson of Wal-Mart founder Sam Walton) is an avid mountain biker.)
Is this a unique situation, or can the success of Slaughter Pen Hollow in Bentonville serve as a model (or at least inspiration) for trail proponents in other cities?