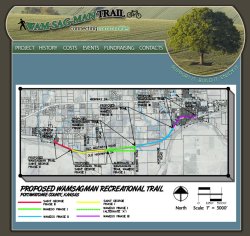 The WAM-SAG-MAN Trail is a a proposed 20-mile paved multi-use recreational trail connecting the communities of Wamego, St. George, and Manhattan.
Since first conceived in 2001, organizers have been raising funs to construct the trail. So far, they've accumulated about $46,000, which is a ways short of the $4.2M estimate for trail construction.
Still, there's hope of progress sooner rather than later. The trail has been submitted to the Kansas Department of Transportation for funding by a Transportation Enhancement grant, which would pay 80% of the costs.
Though building the trail is a long and difficult process, WAM-SAG-MAN Trail committee chair Diane Novak says the effort to build the trail will be worth the trouble:
She believes the trail, which will have handicap accessibility and may someday be part of an inter-state trail network, will benefit people in the area by keeping cyclists off busy roads and reducing the need for people to drive between the communities. It may also help local businesses, like bed and breakfasts, she said. Most of all, though, Novak said she hopes it will incite people to be more active.

"My goodness sakes, we're a soft society," she said. "We have to get out. We don't work as hard as we used to, so we have to get out."
More information: On the trail of a bike trail from the Manhattan Mercury, WAM-SAG-MAN Brochure, wam-sag-man.org.