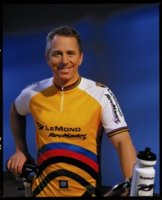 Greg LeMond, the first American Tour de France winner, is scheduled to speak at a luncheon on August 7th for Sunflower House, a child advocacy and child abuse prevention center located in Shawnee, Kansas. The luncheon will take place from at the Jack Reardon Civic Center in Kansas City, Kansas.
LeMond, a three-time winner of the Tour de France, will speak about his experience as a victim of childhood sexual abuse and the role a child advocacy center plays in the recovery process for abused children.
Greg LeMond will shatter child abuse myths and awaken minds to the lifelong effects of child abuse. Over 30 million Americans living today were sexually abused as children, and many of those have kept it a secret. By telling his secret, Greg LeMond will be changing lives.
Proceeds from the luncheon will further Sunflower House's mission of protecting children in the community from physical and sexual abuse. Tickets for the event are on sale at sunflowerhouse.org or by calling 913-631-5800.
The Kansas City Star has a powerful article detailing LeMond's story: Revealing sexual abuse suffered as a child helped cycling champ LeMond heal