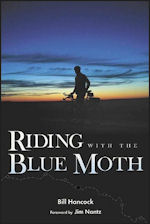 There may be some awkward moments at the De Soto Chamber of Commerce's annual dinner on Saturday.
The notably bicycle-unfriendly town of De Soto (De Soto Reaffirms 83rd Street Bicycle Ban), located in eastern Kansas between Lawrence and Kansas City, is welcoming Bill Hancock, author of "Riding with the Blue Moth," to be the featured speaker at their dinner. The book relates the story of Hancock's cross country bicycle trip after the death of his son, where the "blue moth" is Hancock's metaphor for the grief and depression he felt after the loss of his son.
Bill lives in Prairie Village, Kansas and is director of the NCAA's Bowl Championship Series, and he will speak Saturday at De Soto VFW Post 6654, where the dinner takes place from 6 to 9:30 p.m. The cost for the event is $35 per person.
Here's hoping that the Chamber of Commerce understands the negative reputation the community has earned through the bicycle ban fiasco, appreciates the positive economic impact that bicycling can bring to their town, and is willing to work to persuade the De Soto city council to address the situation.
Learn more from the De Soto Explorer: De Soto Chamber annual dinner Saturday
Post tags: De Soto Bike Ban