For a number of years, the community of De Soto, Kansas has banned bicycles from 83rd Street in their town, citing safety issues on a two-lane road with no shoulders.
Last week, the city council in De Soto took another look at the bicycle ban, and decided to keep it in place:
The ban on bicycling on 83rd Street in De Soto, Kansas, was put in place by the city council several years ago.

About one year ago, the city council reconsidered the ban and decided to wait until a current construction project was complete before removing the ban.

Despite the promises to remove the ban when the construction was complete, last December, when the construction project was complete, the city reconsidered and decided to retain the ban.

Now the issue has come up again on the DeSoto City Council agenda for July 15th, 2010.

A committee recommendation was to lower the speed limit on 83rd Street so that it meets current engineering recommendations and simultaneously remove the bicycle ban. The recommendation was to enforce single file riding only for bicyclists.

The City Council decided to reject these recommendations and leave both the bicycle ban on 83rd Street and the current speed limit in place. The vote against changing the speed limit was 3-2. [read more from MoBikeFed]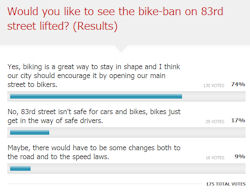 Following the city council decision, the De Soto Explorer newspaper ran an online poll that asked readers to weigh in on the issue: "Would you like to see the bike-ban on 83rd street lifted?"
Over several days, and 175 votes, the tally came to:
74% favored lifting the ban
17% wanted to keep the ban in place
9% weren't sure
Gee, sounds like the people have spoken loud and clear. Is the city council paying attention?
Through the wonders of the web, you can now vote on the issue right here:
What do you think?
OK, so I suspect I know that you think. So vote, already!
Post tags: De Soto Bike Ban