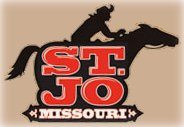 St. Joseph isn't Missouri's largest city, but this year the Northwestern Missouri community of just under 75,000 residents has taken major strides toward becoming one of the state's most bicycle-friendly.
Here are some recent developments:
Tour of Missouri
St. Joseph scored the coup of becoming the host city for the first day of the second running of the Tour of Missouri professional bicycle race, and has put in a lot of work to take advantage of this huge event:
The Bikes & Blues Festival takes place September 5-8, a family festival of cycling events and blues entertainment.
Friday, September 5th: Join members of the St. Joseph Bicycle Club on an easy-paced Night Ride that will meander from Civic Center Park to the Castle at Krug Park for light refreshments before returning to the Blues Festival.
Saturday, September 6th: A guided tour of local trails by the St. Joseph Mountain Bike Club.
Saturday, September 6th: Tour of St. Joseph Team Time Trial
Sunday, September 7th: St. Joseph Road Race
Sunday, September 7th: Mark Reynolds Fun Ride for Kids
2008 U.S. National Mountain Bike Trials Champion Mike Steidley, one of the most exciting and extreme mountain bike riders in North America, will be performing his popular stunt show on September 6th and 7th at Civic Center Park. Mike will demonstrate a level of control over his bike that often defies physics and logic. Whether it's hopping over a car, jumping between two rocks, or riding the length of a handrail, the tricks often leave spectators breathless.
On September 6th at 2pm, fans of professional cycling can come to Civic Center Park and meet some of the Tour of Missouri racing teams, who will be on hand to meet with everyone and sign autographs.
St. Joseph Trails
St. Joseph has a growing network of trails, of both the multi-use and mountain bike variety.
The local mountain biking club maintains an extensive collection of trails in the St. Joseph area, including the Girl Scout Camp Trail, Honey Creek Conservation Area, Sunbridge Hills, Corby South Trails, Corby North Loop, Brownie Scout Trail , and Krug Park. There are trails for every skill level, from beginners to those seeking greater challenge. There are over 40 miles of singletrack within the city limits alone.
In May, St. Joseph trails were host to the Robidoux Roundup mountain bike race, received notice from the local paper, and drew praise from out-of-town riders.
There is also a network of concrete paths that generally parallel parts of the city's renowned parkway system, with nearly four miles of new trails added just this year.
On the drawing board is the Quad States Trail Network, a plan that aims to bring together trails from Missouri, Kansas, Iowa, and Nebraska into one of the world's largest interconnected trail systems.
St. Joseph Cycling Community
The St. Joseph Bicycle Club and the St. Joseph Mountain Bike Club are two popular groups that provide encouragement, support, and socialization opportunities for cyclists.
The bicycle club publishes a Cycling Guide that describes cycling opportunities in the metro area, including detailed descriptions of regular recreational rides. You can also check out their newsletter, "The Seat Post", for a calendar of scheduled events each month.
The mountain biking club builds and maintains the area trails, and publishes Trail Maps.
St. Joseph bicycle commuters, though small in number, are becoming more visible, as evidenced by a recent newspaper article, Riding through the city:
"I don't think it's really hit St. Joe yet," Mr. Coats said of commuters such as himself and of biking in general. "You go to Colorado, there are bicyclists everywhere … I hope (St. Joseph) becomes more bike friendly." An ever-growing hike and bike trail system in St. Joseph hints to a broader acceptance of cycling in St. Joseph.
The city has also put together a Bicycle and Pedestrian Master Plan that attempts to map out future improvements and enhancements.
It looks like St. Joseph is well on its way to becoming a more bicycle-friendly community!