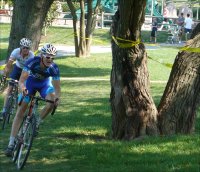 After a record-breaking first round where the Diamond Blackfan Cyclocross Challenge drew 223 entries and raised over $3,000.00 for the Diamond Blackfan Anemia Foundation, the De Stad Cyclocross Van Kansas Series continues this Sunday, October 12th, with the very popular Chris Cross event held in Clinton Lake State Park.
"This will be our 5th annual Chris Cross event and every year the event continues to grow and improve" says Gerard Arantowicz. This year, a fun and challenging 2-mile course has been designed that will test the riders with plenty of gravel roads, twisty turns, sand, barriers, and a new section called the Bakers Dozen, as well as great features from previous years, such as the Little Sahara and Rocky Road (see map).
Some special prizes are in store for all the women's winners. Also, don't forget beginner women race for only $5.00 thanks to the Kansas Cycling Association continued support of women's cycling.
Due to the growing fields, pre-registration is encouraged.
Coverage of the Diamond Blackfan Cyclocross Challenge: Chris Locke, Cameron Chambers, Adam Mills, Mark Studnicki, Team Red Wheel, LocalCycling.com, Photos by Roger Harrison, Photos by SeeKCrun, Video coverage by Team Red Wheel, Results