From Guitar Ted comes this great reminder:
Wear Orange- It's That Time Of Year Again: Deer hunting season is in full swing once again and wearing orange on your woodsie rides is no joke! Think what you may about killing deer, I will only say that there are waaay too many deer per square mile in Iowa and that isn't a good thing for deer.
I picked up an inexpensive orange plastic vest from Wal-Mart for $0.40 — seriously cheap insurance if you're planning on spending any time riding trails during deer hunting season.
Also, you might want to refrain from wearing your Reindeer Antlers in lieu of a helmet…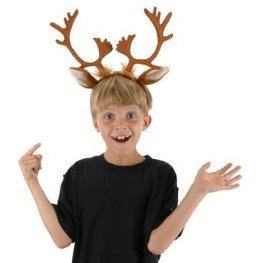 Image courtesy of buycostumes.com