15 years ago, Irene Schroeder undertook a monumental journey: a 20,000 mile, 16-month-long bike trip from the northernmost part of Alaska to the lower tip of South America.
"I learned not only to push myself but find my connection with nature or my moment with God," Schroeder, who at the time had just graduated from the University of Iowa, said. "That point was the moment – the most intense moment."
Irene and her boyfiend rode up the oil pipeline to Prudhoe Bay – the northernmost town in the state – before rolling down to Ushuaia, Tierra del Fuego, in Argentina, which is considered the southernmost city in the world.
During the trip, she "realized life is supposed to be peaceful," and that "there's more to life than the TVs, cars, and the consumerism of normal society."
Today Irene lives in Iowa City, where she teaches Bicycle Touring and Wilderness Appreciation classes for The University of Iowa, and owns her own repair and consulting company called "Bicycle Happiness & Snow Fun." Irene also leads her own band, Irene Rachel & The Mad River Band, which plays "Ambient / Jazz / Blues" in Iowa City in the Spring and Fall months and in The Mad River Valley of Vermont in the Winter.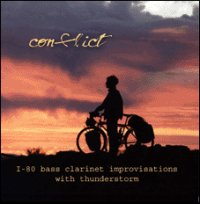 You can learn more about Irene and her band on their web site, themadriverband.com, and on their MySpace page, where you can also listen to some of their music. You can also listen to a sample of Irene's song "Bicycle" at StumbleAudio and view photos of Irene and her tours at MySpace.
The image to the right is from Irene's album, Conflict. Irene improvised this solo bass clarinet CD to an Iowa thunderstorm. The music was inspired by experiences she had while on her epic bike tour. All of Irene's music — five albums so far — have been released under her own label "Bicichica Productions," (bicichica means "bike chick" in Chilean Spanish).
Read more about Irene's amazing story at the Daily Iowan.