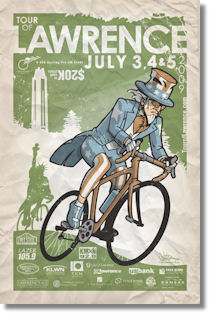 The inaugural edition of the Tour of Lawrence kicks off this weekend, with three days of racing in downtown Lawrence, Kansas. They're expecting about 400 amateur and professional bicycle racers to participate. Here's a quick look at what you can expect at the event:
Friday, July 3rd
The first day of racing kicks off with the Eldridge Hotel Street Sprints, which begins at 7:30pm. The sprint course is a 200-meter straight run on 7th Street in downtown Lawrence. The sprints are run as single-elimination one-on-one heats in rounds 1 through 4, and double elimination for the championship round.
Saturday, July 4th
Saturday racing features the Downtown Criterium, starting at 12:45pm with kids races, and running through 8:45pm with pro races. The criterium takes place on the streets of Historic Downtown Lawrence, and is approximately a mile in length, with less than 40ft of vertical climbing per lap. There are race categories for kids, Juniors, Cat 5, Masters, Women, Cat 4, Cat 3, Women Pro 1/2, and Men Pro 1/2.
In addition to the racing taking place all day, there is a Free Kids Zone that will feature inflatable playground equipment. Lawrence Originals, a group of locally owned restaurants, will be host to a food and music festival starting at 3pm, which will feature three local bands and food and drinks from 18 locally owned restaurants. At 9:30pm the Lawrence Jaycees fireworks show will take place over the Kansas River, with spectacular viewing opportunities in the downtown area.
Sunday, July 5th
The KU Campus Circuit Race is the focus for Sunday, with a 4.42 mile circuit race taking place on the University of Kansas' main campus. This challenging course, with 500ft of vertical climbing per lap, offers an architectural and cultural backdrop that will enhance the experience for both racers and visitors. Racing will take place from 8am through late afternoon.
Spectator-Friendly Racing
The entire weekends events are free and everyone is invited! Bring the whole family and watch the region's top amateur and professional cyclists as they take on Lawrence's challenging terrain while you enjoy food, drink, fireworks, live music and special activities for the Kids all weekend long. Ample parking is available in downtown Lawrence for Friday and Saturday, and additional parking is available on-campus for Sunday's circuit race.
Learn more at touroflawrence.com. Also, be sure to check out the Kansas Cyclist Podcast Episode 4, which featured an interview with Bob Sanner of the Lawrence Convention & Visitors Bureau, who's organizing and promoting the event (the interview starts at about 13:00).
Hope to see you there!
Post tags: Lawrence