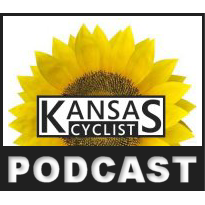 Episode number 4 of the Kansas Cyclist Podcast is a big one!
We have lots of news and events to cover, as well as four interviews. We talk with Steve Douglas, one of the founders of VeloCal, and Martha Van Inwegen, founder and owner of Action Wipes. We also have brief interviews with organizers of two upcoming events, the Tour de Cure: Kansas City and the Tour of Lawrence.
Here is a brief overview of each interview:



VeloCal is a slick web-based bicycle calendar that any group can use to coordinate their rides. We talk with Steve Douglas, once of the creators of VeloCal, about how he and his team came to create the application, how VeloCal works, and some of the interesting features of the calendar. VeloCal is based in Fort Collins, Colorado. VeloCal is free, so give it a try, especially if you've struggled with the limitations of other web-based group calendars.

Action Wipes are natural, full body wet wipes that you can use after a ride when you don't have the time or facilities to shower. They're durable, washable, and reusable, and they're made with all natural ingredients and therapeutic aromatherapy oils of tea tree and eucalyptus to clean sweaty pores and remove bacteria. We talk with Martha Van Inwegen, the creator of Action Wipes, and learn the interesting story behind how the product was created, and how it's been embraced by cycling and other action sports. As a special promotion for listeners of this podcast: listen to this episode for the special promotional code that'll get you a 15% discount!

Tour de Cure: Kansas City is an annual fundraiser for the American Diabetes Association, with this year's edition rolling June 14th out of the Kansas Speedway in Kansas City, Kansas. We talk with Mark Rainey, one of the organizers of the event, about the details of the ride and the route, and fundraising for the American Diabetes Association. An interesting new addition to this year's event is the "Red Rider" program, which recognizes cyclist who are living with (and riding with) diabetes. If you have type 1 or type 2 diabetes, and are riding the Tour de Cure, you're eligible to receive free recognition gifts on the day of the event such as a Red Rider Jersey. Very cool.

The Tour of Lawrence of a new and exciting event taking place over the Fourth of July weekend in Lawrence, Kansas. The Tour of Lawrence offers three days of professional and amateur cycling on the streets of downtown Lawrence, as well as numerous family-friendly events all weekend long. We talk with Bob Sanner of the Lawrence Convention & Visitors Bureau, who's organizing and promoting the event. In addition to riding or watching the Tour of Lawrence, there are also lots of volunteer opportunities. If you'd like to help out, you can contact Bob at sports@visitlawrence.com .
Here's a summary of the rest of the podcast, with links to more information:
Bicycling News:
Upcoming Rides and Events:
There are many more ride opportunities available nearby, so please view the regional calendar for a complete list.
Trail News:
News on the opening of a bike/ped bridge in Kansas City, which will ultimately connect a number of trails in the region. [link]
A discussion of the Prairie Spirit Trail, a 51-mile-long rails-to-trails project in Eastern Kansas.
As always, we hope you'll listen to the Kansas Cyclist Podcast, and consider subscribing to future episodes. We welcome your feedback, so please send in your comments or suggestions.