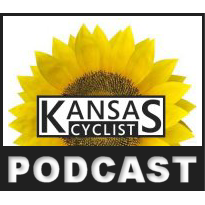 Episode number 2 of the Kansas Cyclist Podcast features an interview with Dale Crawford, longtime Advocacy Director of the Johnson County Bicycle Club, and current vice-president of KanBikeWalk. Dale, through his post at JCBC, as well as his work as a park planner and project coordinator for the City of Olathe, has played a large role in creating the bicycling infrastructure that Olathe enjoys today: an excellent system of interconnecting off-street pathways, and a growing collection of on-street bike lanes and facilities.
Also, with May being National Bike Month, and the second week of May being Bike Week, we have a special segment with Eric Rogers, who runs KCBike.info, and who is in charge of Kansas City's Bike Week festivities. Activities during the week of May 9-16 include the annual Car Free Challenge, a press conference with KC Mayor Funkhouser, cyclist breakfasts, classes and tutorials, and group rides, culminating on May 16th with a bicycle swap meet, the Kansas City Women On Wheels Bike Festival, and the Tour de Cowtown alleycat race.
Here's what else is covered during the podcast, with links to more information:
Bicycling News:
Upcoming Rides and Events:
We also discuss the new trail system that just opened in Melvern, Kansas.
As always, we hope you'll listen to the Kansas Cyclist Podcast, and consider subscribing to future episodes. We welcome your feedback, so please send in your comments or suggestions.