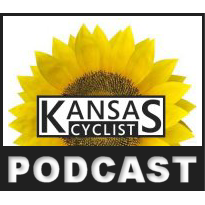 Episode number 6 of the Kansas Cyclist Podcast features an interview with Gina Poertner, who runs LifeBALANCE Sports & Wellness and serves as president of KanBikeWalk, our statewide bicyclist and pedestrian advocacy organization.
We also talk with musician Mark Franzke, who's graciously provided new music for the Kansas Cyclist Podcast. The name of the song is "Brush Creek Crossing" and you can find out more about Mark and his music and art by going to Banjodog.com. If you'd like to hear Mark live, he's playing this weekend at the Byron Jones Bluegrass Festival in Lathrop, Missouri, and on August 28th at a Concert in the Park in Prairie Village, Kansas.
We also have an "on the scene" report from last weekend's Tour of Lawrence, where we spoke with tour organizer Bob Sanner, racer and promoter Roger Harrison, and a very busy Curtis Martell.
Here's a quick summary of the rest of the podcast, with links to more information:
Bicycling News:
Upcoming Rides and Events:
There are many more ride opportunities available nearby, so please view the regional calendar for a complete list.
Trail News:
This episode we discuss the trails at Kill Creek Park in western Johnson County. The park features multi-use trails, equestian trails, and several miles of well-designed mountain bike trails. These are some of the best trails in the Kansas City area.
As always, we hope you'll listen to the Kansas Cyclist Podcast, and consider subscribing to future episodes. We welcome your feedback, so please send in your comments or suggestions.