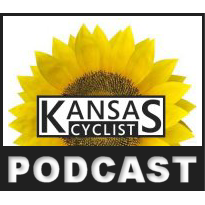 This is the first episode of the Kansas Cyclist Podcast, and as such, an introduction is probably in order:
You can think of the podcast as an audio version of Kansas Cyclist, and as you might expect, it covers bicycling in the state of Kansas, as well as neighboring states. Like the web site, the podcast features bicycling news from around the region, and information on upcoming rides and events. The podcast also features in-depth interviews with interesting people involved with bicycling in our region.
Here's a quick overview of what you'll find in this episode:
Introduction: The first episode introduces your hosts, Edward Eroe and Randy Rasa. Ed runs the Eroe Podcast Network (EPN), which he founded to provide podcasts focusing on topical areas that do not necessarily receive regular news coverage nor in depth exposure. Randy is the webmaster here at Kansas Cyclist.
Bicycling News:
Upcoming Rides and Events:
Interview: The episode includes an interview with Kansas Cyclist webmaster Randy Rasa, discussing the idea behind the site, it's development, and goals and aspirations for the future.
We hope you'll listen to the Kansas Cyclist Podcast, and consider subscribing to future episodes. We also welcome your feedback, so please write to podcast@kansascyclist.com and send in your comments or suggestions. Subscribe to the Kansas Cyclist Podcast