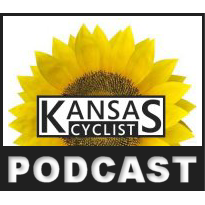 Episode number 3 of the Kansas Cyclist Podcast features an interview with Alan Apel, a League Cycling Instructor (LCI) certified by the League of American Bicyclists, who is circulating a proposal for updating Kansas statutes related to bicycling (see the current cycling laws here), and he's looking for some input from the bicycling community.
We also talk with Deb Ridgway, Bicycle & Pedestrian Coordinator for the City of Kansas City, Missouri, who discusses the state of biking and walking projects in the city, as well as KC's plans to become a bicycle-friendly community.
Here's a summary of the rest of the podcast, with links to more information:
Bicycling News:
Upcoming Rides and Events:
There are many more ride opportunities available nearby, so please view the regional calendar for a complete list.
Trail News:
A review of the new trail system in Melvern, Kansas
A ride report from the Linear Trail in Manhattan
As always, we hope you'll listen to the Kansas Cyclist Podcast, and consider subscribing to future episodes. We welcome your feedback, so please send in your comments or suggestions.