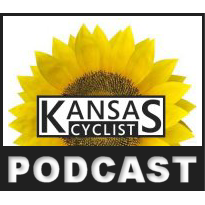 Welcome to episode number 5 of the Kansas Cyclist Podcast, which features an interview with Kenneth Walker, and a preview of the Amelia Earhart Century from organizer Gary McGregor of Reynolds' Bicycles.
You may remember Kenneth Walker from the profile we published of him in February. Since then, Kenneth has continued his work with the Urban Kansas City Community of Cycling, promoting cycling to youth in the urban core of Kansas City. Kenneth talks about his passion for bicycling, his work with youth, and his cycling advocacy. This is a really fascinating and inspiring interview with an inportant leader in his community.
Here's a summary of the rest of the podcast, with links to more information:
Bicycling News:
Upcoming Rides and Events:
There are many more ride opportunities available nearby, so please view the regional calendar for a complete list.
Trail News:
This episode we discuss the trails at Hillsdale Lake near Kansas City. These are trails that I know well, and there are some for every skill level, and don't get nearly the bicycle traffic that they deserve.
As always, we hope you'll listen to the Kansas Cyclist Podcast, and consider subscribing to future episodes. We welcome your feedback, so please send in your comments or suggestions.