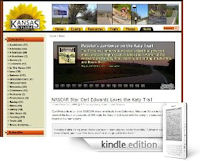 The Amazon Kindle is an innovative handheld electronic device for reading books, newspapers, magazines, and now blogs and web pages.
And now Kansas Cyclist is available for the Kindle.
The thing that makes the Kindle special is that it's not just an ordinary electronic book reader. In addition to being able to store thousands of books on the device using both internal memory and removable flash cards, it also includes WhisperNet, which uses Sprint's 3G data network to let you shop the Kindle bookstore and purchase publications directly on the device, wirelessly from wherever you can pick up a cellular signal.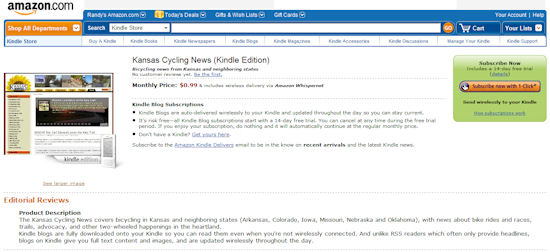 The Kindle version of Kansas Cyclist is available for only 99¢ per month, with a free 14-day trial.
Once you've subscribed, you'll be able to get Kansas Cyclist from nearly anywhere, whether you're at home, at work, traveling, or even touring around the country on your bicycle. As soon as something new is published here, it'll automatically be uploaded to your Kindle, and you can read it at your leisure.
Click here to add Kansas Cyclist to your Kindle subscriptions.