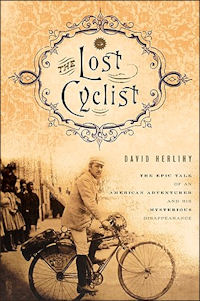 The Lost Cyclist tells the story of Frank Lenz, who in 1892 quit his accounting job and set off on the adventure of a lifetime. Working as a correspondent for Outing Magazine, his mission was to bicycle around the world, a total of 20,000 miles over three continents, on what was then cutting-edge technology, a "safety bicycle" with pneumatic tires. Two years later, after having survived countless near-disasters and unimaginable hardships, he approached Europe for the final leg.
He never made it. His mysterious disappearance in eastern Turkey sparked an international outcry and compelled Outing to send William Sachtleben, another larger-than-life cyclist, on Lenz's trail. Bringing to light a wealth of information, author David Herlihy's book captures the soaring joys and constant dangers accompanying the bicycle adventurer in the days before paved roads and automobiles. This untold story culminates with Sachtleben's heroic effort to bring Lenz's accused murderers to justice, even as troubled Turkey teetered on the edge of collapse.
Author David Herlihy presents The Lost Cyclist at a reading and book signing on Wednesday, September 29, 2010, 6:30pm at the Plaza Branch of the Kansas City Public Library, 4801 Main Street in Kansas City, Missouri.
David Herlihy will discuss his new book, and answer audience questions. A limited number of pre-autographed copies of The Lost Cyclist will be available for purchase from Rainy Day Books.
This event is open to the general public, and you can call 816-701-3407 to make reservations, or RSVP online.
Watch this video to learn more about The Lost Cyclist and get a preview of the event:
David Herlihy is also the author of Bicycle: The History, winner of the 2004 Award for Excellence in the History of Science. "The author's vivid account of this story could not be more detailed if Herlihy himself had personally lived through every experience he recounts. Each chapter is filled with eye-catching illustrations and photographs spanning nearly two centuries, and Herlihy takes what could have been just another history book and makes it a story worth telling your friends about."
Post tags: Kansas City