Big Poppi Bicycle Co. is a new bike shop in Manhattan, Kansas, home of Kansas State University, and affectionately known as "Aggieville".
The goal of the shop is to "create an environment in which everyone is welcome to love bicycling. Fast or slow, young and old, a true pedaler's paradise for all."
Big Poppi Bicycle Co. is located at 1126 Moro St. in Manhattan, and their grand opening is Saturday, May 2nd. You can enter to win a $1000 bicycle package, and enjoy food, facepainting, and cotton candy. There will also be a Kids Safety Class by the Riley County Police Department.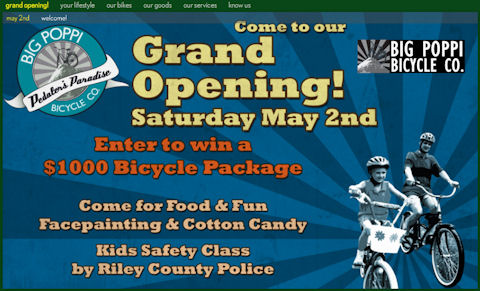 The following is a brief video which introduces you to the people running the shop, gives you a tour of the shop itself, and gives you a quick look at the bikes and gear they carry.
You can learn more about the new shop at bigpoppibikes.com or on their Facebook page.
Good luck with the new bike shop!
Post tags: Bike Shops, Manhattan