The Southwind Rail Trail is holding a grand opening event on June 8th in Iola. This 6-mile trail between Iola and Humboldt features a crushed limestone surface, and several scenic points, including the magnificent Elm Creek railroad bridge.
The Southwind Rail Trail connects with the 51-mile Prairie Spirit Rail Trail State Park in Iola, making for a continuous distance of about 57 miles (or much more, if you connect with the Flint Hills Nature Trail in Ottawa).
Thrive Allen County, which has been the main organization behind the development of the Southwind Rail Trail, recently unveiled an official logo for the trail: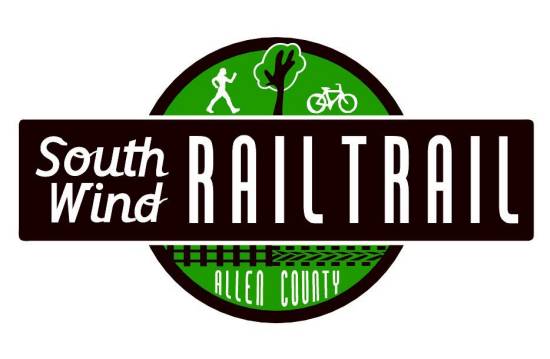 Thrive has set up a Southwind Rail Trail Grand Opening event on Facebook:
You are cordially invited to the Grand Opening of the Southwind Rail Trail linking Humboldt and Iola. Bring your walking shoes and bikes and take a tour of this beautiful project.
The event begins at 2pm at the junction of the Southwind Rail Trail and Prairie Spirit Rail Trail on Bruner Street in Iola.
In addition to being a beautiful trail in its own right, the Southwind Rail Trail is special for another reason: It is the first time in Kansas history that a county has agreed to partner with trail group volunteers to build, manage and maintain the trail corridor.
Given the sometimes-contentious relationships between trail organizations and counties (see Franklin County Stalls On Trail, Cherokee County Obstructs Trail Development, and many other similar situations not listed on this site), it's great to see a county embracing a trail! Hope this is a model for better relationships going forward…
Post tags: Humboldt, Iola, Prairie Spirit Trail, Rail Trail, Southwind Rail Trail