Bicyclists in Allen County are celebrating another amenity to their trails, the addition of decorative archways over the Southwind Rail Trail in Humboldt, and over the Prairie Spirit Trail in Iola.
The archway pillars are constructed of brick, with a sunflower-themed metal arch connecting the two pillars, and an oval sign depicting the community name and logo — a rainbow arch bridge for Humboldt, and an active living scene for Iola.
The archways were built by local artisans, with local donations, under the direction of local nonprofit, Thrive Allen County, which dedicated the archways in ceremonies in Humboldt and Iola on August 14th.
The archways, along with the recently-installed wayfinding signage in Iola, and a new kiosk and art display being constructed in Humboldt, are intended to welcome trail visitors to the communities, as well as providing a focal point for passing motorists to notice the trails.
Here is the arch in Humboldt: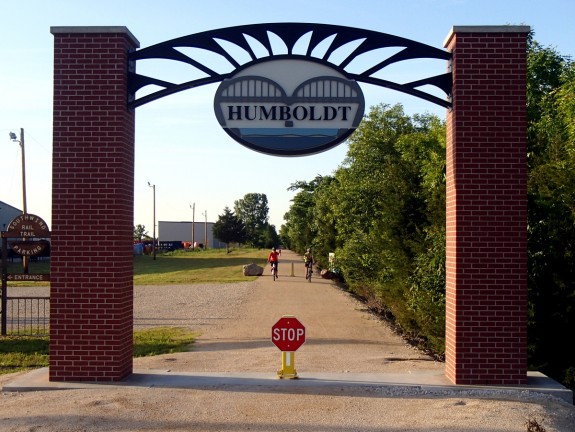 Here is the arch in Iola: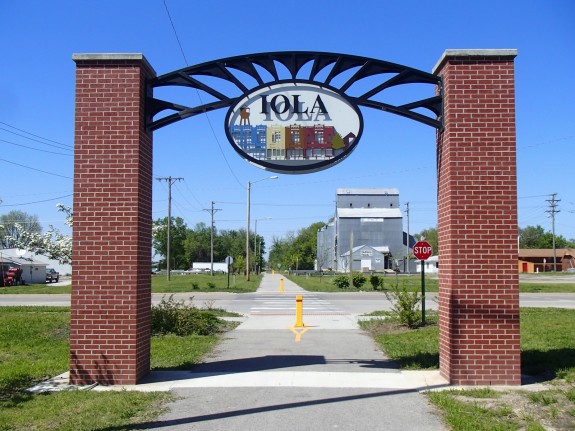 Learn more from Bike Allen County, Thrive Allen County, and KOAM-TV.
Post tags: Humboldt, Iola, Prairie Spirit Trail, Southwind Rail Trail