The small southeast Kansas community of Iola is poised to cement its growing reputation as the premier trail town in Kansas, with the addition of the Lehigh Portland Rail Trail, and new mountain bike trails.
Thrive Allen County has been awarded a $100,000 Healthy Living grant from the Kansas Health Foundation to develop the Lehigh Portland Rail Trail in Allen County. This new trail system will include walking and biking trails similar to the Prairie Spirit Trail and the Southwind Rail Trail, but will also include mountain bike trails and related amenities that are rare in this part of Kansas. The new trail system will be free and open to the general public year round.

Thrive is one of 22 grantees in the state to receive Healthy Living grant funding, and was selected based in part on the outstanding progress that has been made in the county the past six years developing trails, improving parks and recreation, establishing bicycle routes and sharrows and in increasing the prevalence of physical activity among residents. Allen County's county health ranking has improved by 15 points since 2010, driven in large measure by changes that have been driven and nurtured by Thrive and its partners.

The Lehigh Portland Rail Trail will be built just south of Iola on land owned by Iola Industries, Inc. through an easement granted to the Sunflower Rail-Trails Conservancy, Inc. (The Sunflower Rail-Trails Conservancy owns the Southwind Rail Trail that runs from Humboldt to Iola). The trail's name pays homage to Allen County's industrial past and specifically to the Lehigh Portland Cement Company, which purchased the Iola Portland Cement Company in 1917 and operated a major plant in Iola until 1970.

The trail will begin next to Elm Creek Park South on South Washington Avenue and travel east along the south side of Elm Creek to the north side of Elks Lake. From there it will continue eastward and connect to 1600 Street (South Kentucky). The "backbone" trail will be approximately 12 feet wide and constructed of a crushed limestone surface; this portion will be the main trail for walkers and cyclists. Mountain bike trails will be built adjacent to the backbone trail and will be primarily dirt trails. Steep hills, mature trees and ravines make this an excellent location for mountain bike trails in particular.
Read more: Grant to Fund Lehigh Portland Rail Trail Development
Iola and Allen County is already home to over 18 miles of trail (between the Prairie Spirit Trail and the Southwind Rail Trail), with another half-mile (the Missouri Pacific Recreational Trail) set to be built later this year.
The Lehigh Portland Rail Trail will add 1-2 miles of rail-trail, plus a significant singletrack network, hoped to be approximately 6 miles in length. The singletrack will be open for mountain biking, trail running, and nature hikes.
The mountain biking trails address a serious shortcoming in Iola's trail network — the nearest existing MTB trails are Fort Scott's Gunn Park Trails and the Badger Creek Mountain Bike Trail at Fall River State Park, each over 40 miles away.
An interesting element of the new trails will be the re-use of a local historic bridge. The Hegwald Bridge was built in 1909 hear Humboldt, and was slated for demolition this summer, to make way for a more modern (read: "boring") concrete slab bridge. Funds from the grant helped save the bridge, which was recently moved to Iola, with plans to incorporate it into the rail-trail.
The trails will be built in an area bounded by Elm Creek and the former Portland Cement plant. The terrain includes both riparian woodland and prairie upland, with a large variety of landscapes within a relatively small area. Included on the property is a large, clear lake that was previously a rock quarry. In some places around the lake the woods run right along the shoreline, while in others the trails will be built along towering 25-foot limestone bluffs with scenic views of the lake. Remains of quarrying equipment and old railroad lines are scattered throughout the property.
Thrive is seeking volunteers to help plan, build, and maintain both the rail-trail and singletrack trails. Construction is hoped to be largely complete within about two years. Contact Thrive Allen County at 620-365-8128 or damaris.kunkler@thriveallencounty.org to get involved.
Some photos from the property: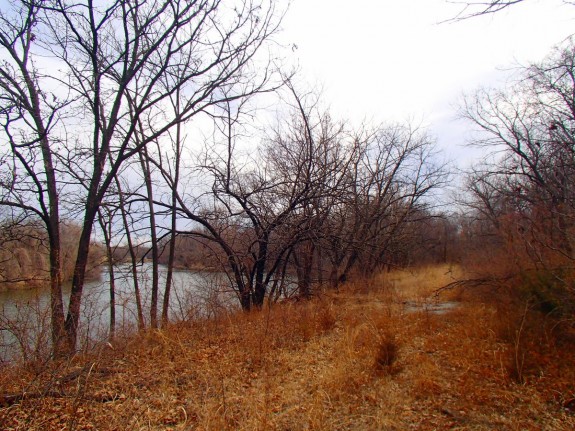 Part of a former rail line running along Elm Creek.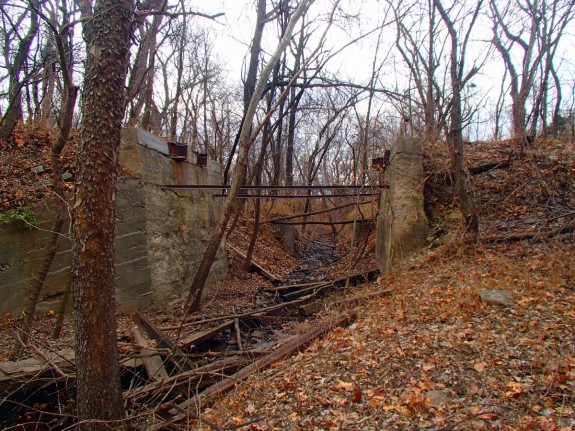 Railroad bridge abutments, with a missing deck.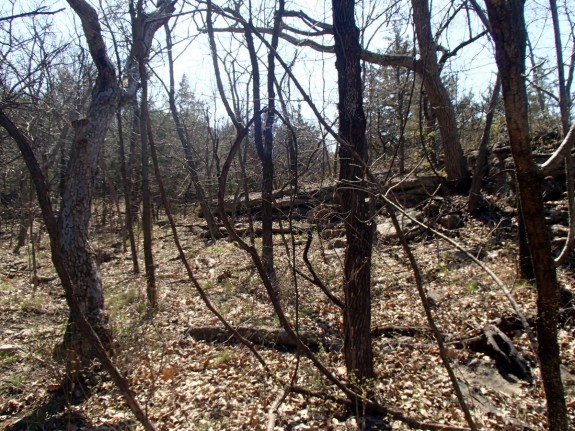 Some of the rugged terrain.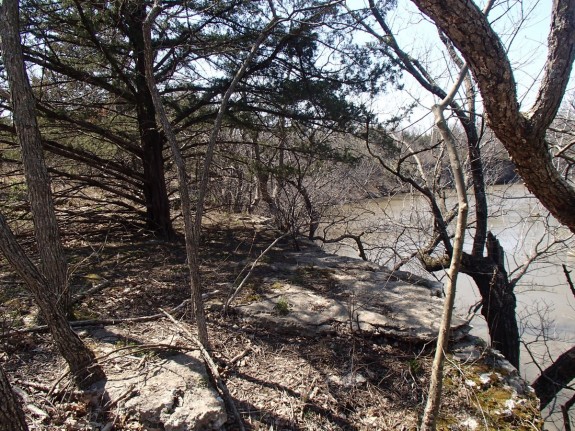 Bluffs overlooking Elm Creek.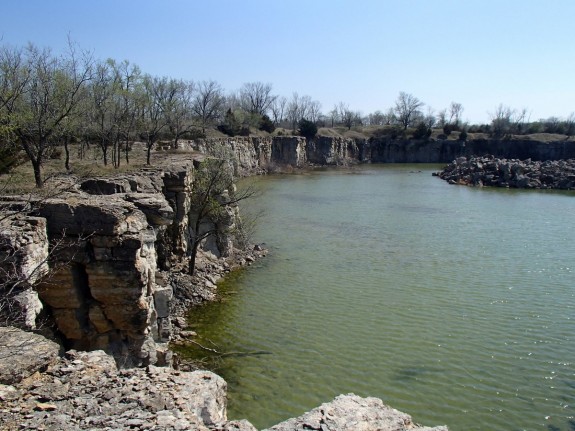 Bluffs overlooking the quarry lake.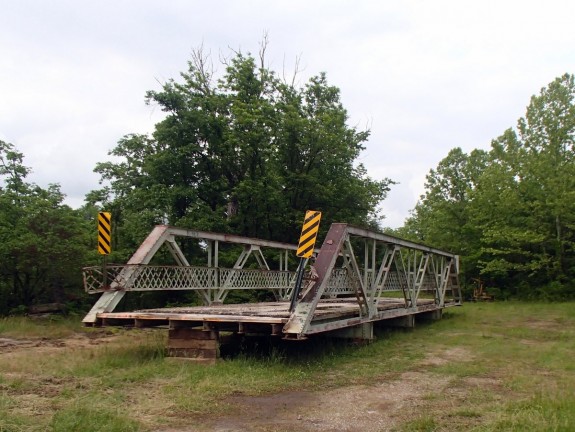 The historic Hegwald Bridge, ready for deployment.
Post tags: Iola, MTB, Rail Trail