A new Kansas rail-trail is taking shape in Iola, the product of an unusual level of cooperation between the City of Iola, Allen County, a private landowner, and a local non-profit (Thrive Allen County). The new connector trail will link the Southwind Rail Trail to the new Lehigh Portland Trails.
This level of collaboration is refreshing, given the often-hostile environment for trails in many parts of Kansas. Cities are usually very supporting of adding new trails (since their residents demand them), but private landowners many times will actively oppose trail projects, while county governments all too often either passively or actively work to obstruct trails. (See examples in Butler, Leavenworth, McPherson, Osage, and Reno Counties.)
But this is not the first time that Allen County has been supportive of trails. The Allen County government is actually the manager of record for the Southwind Rail Trail, for instance, though the trail is actually maintained and managed by a committee of volunteers, with little County involvement. This partnership was highlighted in a 2015 news story: Southeast Kansas rail-to-trail project makes history
The Lehigh Portland Trails are another recent example, with Allen County Public Works contracted to provide and install the rock surface of the gravel trails. Allen County Public Works will also be providing similar assistance with construction of the new connector trail.
Additional detail about this new trail courtesy of Bike Allen County:
The new 0.4-mile trail segment will follow an old railroad spur eastward from the Southwind Rail Trail, passing beneath the State Street Bridge, paralleling Elm Creek for a short distance, then connecting to Washington Avenue through the City of Iola's Elm Creek Park South. The western trailhead for the new Lehigh Portland Trails will be located at Washington Avenue. The Lehigh Portland Trails will offer both wide gravel-surfaced trails and natural-surface singletrack trails for mountain biking, trail running, and nature hikes. The new link will provide people walking or biking a safe passage between the two trails, allowing them to avoid having to travel on or across busy State Street.
Here's a map, with the existing Southwind Rail Trail on the left, the new Lehigh Portland Trails system on the right, and the connector trail highlighted in green: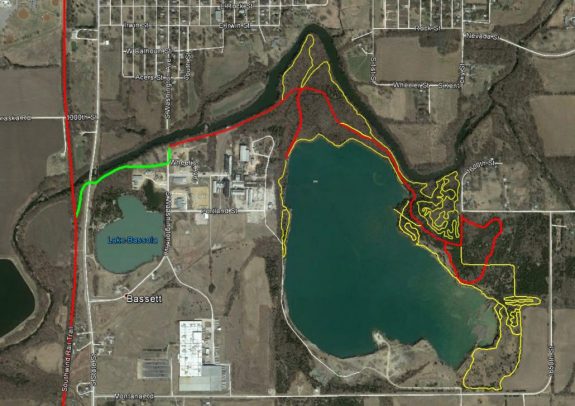 With the new trails coming online, Allen County will have added over 20 miles of new trails within the last decade.
Post tags: Iola, Rail Trail