Bike Allen County has news about recent improvements to helping visitors navigate the trails in Iola:
There is new wayfinding signage on the Prairie Spirit Trail and on the Southwind Rail Trail.

The new signs, obtained via a grant by Thrive Allen County, and installed by the City of Iola, are located at major road intersections along the trails: Riverside Park, US-54, Cofachique Park, Miller Road, and Oregon Road.

The signs provide visitors with information to help find services, amenities, and major landmarks.

The signs are large — about 8 ft by 4 ft — enclosed in metal frames, and situated so that they are visible to both trail traffic and street traffic.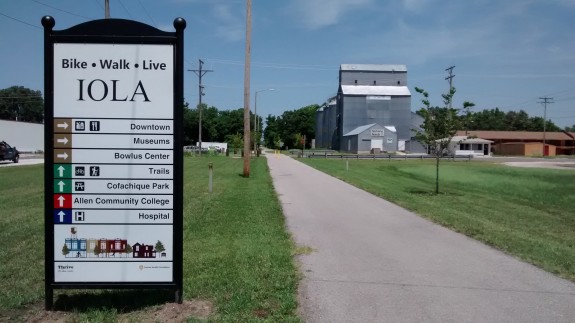 Read more: Iola Adds New Trail Signage
Post tags: Iola, Prairie Spirit Trail, Rail Trail, Southwind Rail Trail