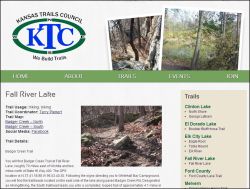 The Badger Creek Mountain Bike Trail at Fall River Lake is located on Corps of Engineers property on the northeast side of the reservoir. There are actually two separate trails here, with the south loop consisting of approximately 4.1 miles, and the north loop at about 2.7 miles. Both are designated for hiking and biking, and feature terrain including old-growth Post Oak, Blackjack, Locust and a variety of Savannah vegetation, along with large rock formations that make for a not-too-physical, not-too-technical experience.
There are plans to connect the two trails from the south side of Badger Creek with a spur trail to the northern loop for a contiguous trail system that will provide a number of route and distance options.
The Badger Creek Mountain Bike Trail is maintained by the Kansas Trails Council and the Kansas Singletrack Society.
In addition to the Badger Creek Mountain Bike Trail, Fall River Lake also features the Fall River State Park Trails, located on the southern shores of the reservoir.