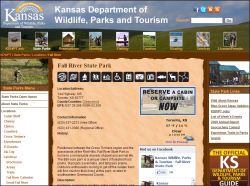 Positioned between the Cross Timbers region and the grasslands of the Flint Hills, Fall River State Park is located about 70 miles east of Wichita, and is home to a remarkable diversity of plant and animal life. The 980-acre park is a unique blend of forested flood plains, blackjack savannahs, and tallgrass prairie. The park offers fishing, swimming, boating, and water skiing on the 2,450-acre reservoir, canoeing on the Fall River, as well as numerous primitive and developed campsites.
Fall River State Park features a number of trails:
Casner Creek - This 1.5-mile trail is accessible via the Casner Creek Campground trailhead, and takes you through a wooded area with a profuse display of prairie wildflowers.

Turkey Run - This 1-mile trail runs through a wooded ravine, crosses a stream, and ascends across a tallgrass prairie that features a breathtaking view of Fall River Lake and the Flint Hills.

Post Oak - This gently-rolling 0.75-mile trail takes you along a portion of Craig Creek, where you'll see post and blackjack oaks, lichen covered sandstone outcroppings, and open grass meadows.

Bluestem - This 1.5-mile trail features native grasses that dominate the landscape as it changes from high prairie to low woodlands.

Catclaw - This 1-mile trail takes you through tallgrass prairie, sloping sandstone ridges, and wooded oak savannahs, with a panoramic view of Fall River Lake.
In all, there are about 6.5 miles of trails open for hiking, walking and biking. All trails are of moderate difficulty.
In addition to the trails at Fall River State Park, Fall River Lake also features the Badger Creek Mountain Bike Trail, located on Corps of Engineers property on the northeast side of the reservoir.