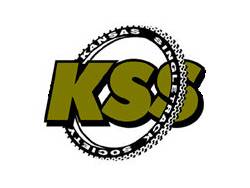 The Kansas Singletrack Society (KSS) coordinates the maintenance and development of trails in South Central Kansas and educates mountain bikers and trail users in responsible and environmentally sound use and design of trails.
The KSS maintains trails at Air Capital Memorial Park, Camp Horizon, Winfield City Lake, Santa Fe Lake, Miller's Meadows and the Eagle View Trail at Kaw Lake, and rehabilitates trails that have become overgrown and unrideable. The KSS also seeks to identify opportunities for new trail development, especially in and near Wichita.
KSS members have spent hundreds of hours maintaining and building mountain bike trails, and have added several miles of singletrack at Camp Horizon and created a new mountain bike trail near Wichita called Miller's Meadows. Adding additional trails in the Wichita area is a top priority for KSS.