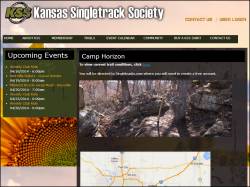 You won't believe you are in Kansas! Camp Horizon is located just east of Arkansas City in extreme south-central Kansas, atop a bluff overlooking the Arkansas River. There are 160 acres of wooded trails, charming lodges and rustic campsites nestled in the rolling hills.
Camp Horizon is a camp and retreat center that is available for a variety of outdoor and recreational experiences. Highlights include the North Woods Chapel, South Woods Chapel, Settler's Dugout, Outlaw's Hideout, Trail of Crosses, and Inspiration Point. The Cement Factory and Rock Quarry offer climbing and rappelling opportunities for the adventuresome.
Camp Horizon offers about 9 miles of trail with over 1000 feet of climbing. The trail is 90% singletrack and 10% primitive doubletrack. Much of the trail is technical, but there are some beginner and moderate parts as well. There are flat and fast open-throttle sections as well as wooded trails and rocky, technical track. Rolling roller coaster like descents intermingle with short ascents, drops and whoop-de-doos. The energy-sucking climb towards the end of each lap will slow even the strongest rider.
The Camp Horizon trails are maintained by the Kansas Singletrack Society. Camp Horizon is also the home of the annual Tour de Lizard mountain bike race.