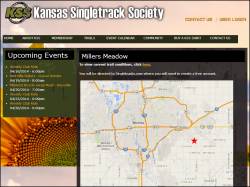 Miller's Meadow is located on private property within the Wichita city limits, near Pawnee and 143rd East. Local riders describe it as the "Crown Jewel of the Wichita Mountain Biking Scene." There are over 5 miles of crazy tight wooded singletrack, open fields, multiple creek crossings, bridges, concrete slabs, roots, elevated bridge, some jumps, minimal elevation change, hedge-apples, urban artifacts, and bobcats.
The entrance to Miller's Meadow is a gate on the south side of E Pawnee St, just before 143rd. If the gate is open, you may park in there. You may also access the east side of the trail by entering the field 1/8 of a mile east of that gate. You may enter the trail there at the start of the trees.
The annual Miller Maurader's Monster Mash dirty century takes place on the Miller's Meadow trails every October.
Miller's Meadow was built and is maintained by the Kansas Singletrack Society. It is currently closed due to nearby private development and construction.
Sorry, but this listing is not currently active;
info shown is the last known data...